Goldie Hawn's Dance with Kate Hudson Was so Exciting It Brought the Audience to Its Feet
Recently fans of The Ellen Show got a treat when Goldie Hawn and daughter Kate Hudson entertained the audience as Goldie's contagious dance moves got everyone moving.
When viewers sat down for their dose of The Ellen Show in January, they were surprised when there was no Ellen. However, Kate Hudson appeared on stage in her bohemian kaftan ready to host the show with mum Goldie Hawn, who is "always late," yet to appear on stage. 
Ellen had the day off, and Goldie Hawn and her daughter Kate stepped in as hosts for the day. The two previously appeared on Ellen's show in September last year, and the fans absolutely loved them.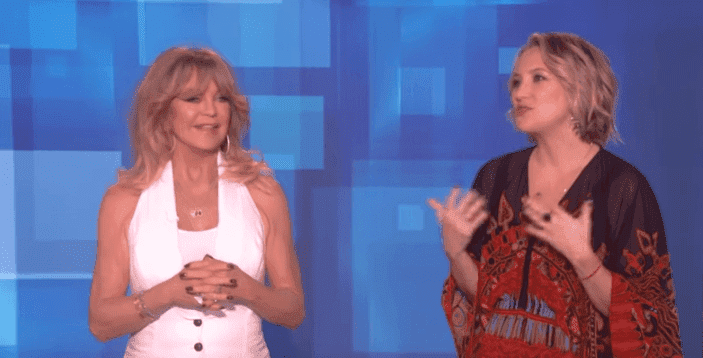 The show's decision to get the pair to stand in for Ellen was a great one as the audience laughed and cheered throughout the show. Kate was midway explaining her mother's tendency for lateness when Goldie burst onto the stage. 
All flushed in a white pantsuit and boots, Goldie apologized for being late before the pair skipped to their favorite part of the show first.
Each episode of Ellen always features the same segments in the same order; firstly there is Ellen's comedy skit followed by celebrity guests. Human interest stories come after that before she ends the show with a musical performance by one of her guests, and always dances with her audience at the end.
But not Goldie and Kate as they enlisted the skills of DJ Switch so everyone could get their groove on. The audience clapped and cheered and arose from their seats as Kate and Goldie began dancing, the pair headed into the audience with everyone dancing and enjoying themselves.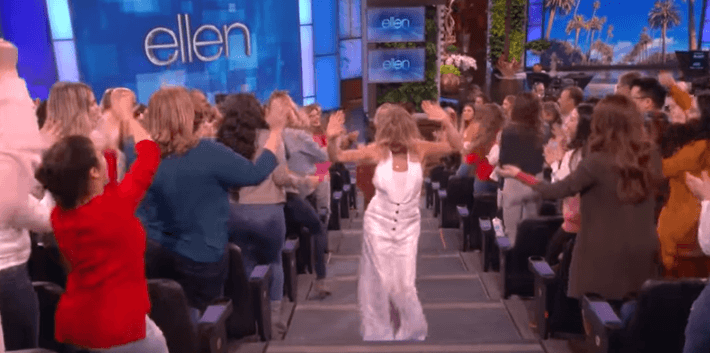 From Goldie's moves, one can see her
beginnings as a dancer
in the entertainment industry still lingers. From Washington, Goldie moved to California in the 1960s where she got her first job as a dancer for a theater show at Disneyland.
During the episode, Kate and Goldie spoke about Kate's birthing experience when Rani Rose, Kate's youngest daughter came into this world last October. The eldest of Kate's siblings, her older brother Oliver also paid a visit and shared some embarrassing moments with mum Goldie when they were kids. 
The delightful hosts for the day also shared how they crashed a Warner Bros. Studio tour, and the audience loved it as they laughed and cheered.
Goldie's striking energetic and sunny disposition is something we've come to associate with the actress and one she contributes to regular meditation. Being surrounded by family and Kurt Russel who still makes Goldie light up, certainly helps.
But Goldie actually met Kurt years before they got together. Back in 1968, the two got cast alongside each other in "The One and Only, Genuine, Original Family Band" with Goldie 21 years old at the time while Kurt was 16.
Goldie said there was a "spark" between them at the time, but nothing came of it until they reunited on the 1984 film, "Swing Shift."
The actress first married a fellow dancer and actor, Gus Trikonis in 1969 but the pair got divorced in 1976. Goldie then married Kate and Oliver's dad, Bill Hudson soon after and parted ways again in 1983. 
Although the two are not married, Goldie and Kurt had been together since 1984 and still loving life and each other. But recently Goldie shared the reason why she and Kurt decided not to get married.