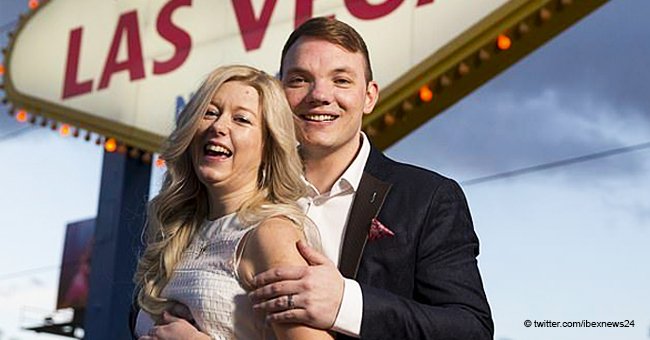 Woman Who Married on the First Date Reveals She's Living with Her Husband and 2 of Her Ex-lovers

Sarah Edwards got married to Paul Edwards the very day that she met him. Now, the couple shares their home with two of Sarah's ex-lovers.
It was love at first sight for the Edwards who were both utterly convinced about each other, they decided to tie the knot on their first date in a Vegas ceremony. It is easy to comprehend that such a marriage may likely have lots of ups and downs. The duo since their wedding night has been living with two of Sarah's ex-lovers whom she was cohabiting with before the engagement.
In an interview conducted by MailOnline from Sarah's home in Kent, she explained that:
"We had to start married life by moving into the house I own with my ex Paul until we can sell it then we will rent somewhere, alone."
Sarah also said that the awkward situation has not put a damper on their happiness, and they were about to celebrate their two month anniversary. Although they are happy, she admitted it was tiring. They are just getting to know each other, and this plan seems to be hindering the process.
Sarah also revealed that her two ex-lovers are also named Paul, adding;
"So there are three Pauls! But luckily they all get along like a house on fire."
This, however, does not stop her husband from getting jealous. According to Sarah, Paul is extremely jealous, and she had to inform her therapist about the situation. The therapist, however, suggested that this could more likely occur because they skipped the dating phase.
In all, the new bride is happy with her boo. She has met his two daughters ages 15 and 13, whom she says are very happy she is with their father. The lovers met on the dating app Bumble. Fifteen days later, they met for the first time at Gatwick airport and decided on a trip to Vegas where they wedded at the Bellagio Hotel and Casino.
After the union, they returned to the U.K, where Sarah went topless at a "Fetish and BDSM" party organized by the "Torture Garden." The picture cost Sarah her job as a nanny, but not Paul's love. During an appearance on the British morning show "Good Morning," Paul admitted that his wife told him about the photos, and went on to say that she was also honest about her high sex drive.
Sarah, on the other hand, revealed that she found it hard to find a man that could match her drive until she met Paul. Also adding that although people felt they married on a whim, she believes in the power of her convictions, and is happy.
Please fill in your e-mail so we can share with you our top stories!