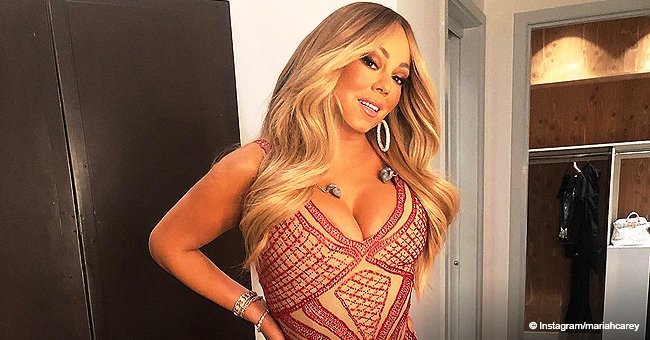 Mariah Carey Flaunts Her Curves in Skin-Tight Red & Nude Mermaid Dress in Recent Photo
Mariah Carey is doing one last show in Vegas, and she made sure to command as much attention as she can in a stunning red and nude mermaid dress that she donned before her performance.
Mariah Carey is no stranger to Las Vegas, as she's had one of the most successful residencies that the city has seen to date. Now that she made a return to Caesar Palace's stage for a couple of days, she's been looking her best and making the most out of every show she's done.
In a recent post that she shared just a couple of hours before the last leg of her "The Butterfly Returns" show at Caesar's, she posed in a body-hugging nude and red gown that hugged her curves and accented her chest. Ready to hit the stage, she wore heavy makeup and had her blonde hair in voluminous waves. She promoted the show in her caption, hinting about her newest project, the Caution World Tour which follows soon after her Vegas run.
Amid her shows and future projects, Mariah Carey is facing a lawsuit filed by her former assistant, Lianna Shakhnazaryan, who responded to the singer's suit against her. This time, Mariah and her former manager Stella Bulochnikov are being filed with verbal, physical, and sexual abuse.
After a bitter legal feud between Carey and Bulochnikov, they are once again under the public eye after Shakhnazaryan claims that she was victimized by the two during their partnership together. The alleged victim worked for the singer from 2015 to 2017, where she was fired from her job due to unfortunate circumstances that she is now ready to share to the public.
The "Touch My Body" singer was the first to sue Shakhnazaryan for breach of contract and invasion of privacy, for which she demands over $3 million. This accusation came to light after the assistant allegedly filmed personal videos that could tarnish the artist's reputation.
In turn, her former assistant also filed a case against her employer, narrating things from her point of view. She claims that she was the subject of abusive and humiliating behaviors from Bulochnikov in the presence of Carey.
According to the documents, Carey's former manager would use racially-motivated slurs over Shakhnazaryan's Armenian descent, among many other forms of abuse and battery over the span of two years.
Although most of the lawsuit is against the former manager, whom she claims slapped her breasts and buttocks, and even urinated on her, she also accuses Carey of allowing this behavior to keep happening and for acting similarly.
When she had enough and reported Bulochnikov's harassment to Carey, she was fired from her job.
Now, the two women are at each other's throats in court, and the jury has yet to decide on the implications of their complaints.
Please fill in your e-mail so we can share with you our top stories!