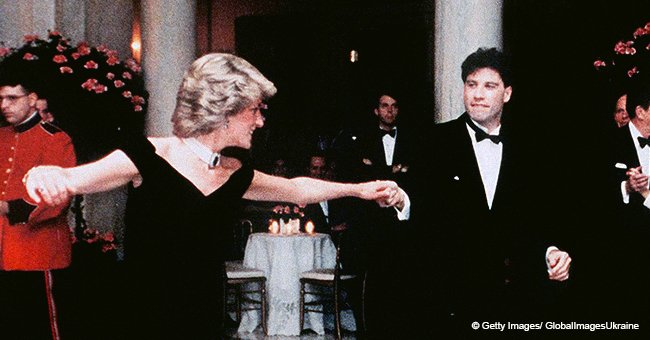 Touching Story Behind John Travolta and Lady Diana's Dance That Made History 33 Years Ago
Back in 1985, the Hollywood star and the "People's Princess" were photographed in what looked like a real-life fairytale, but more than 20 years later, the truth behind their dance at the White House came to light.
That year, on November 9, then US president Ronald Reagan invited several celebrities and personalities to a gala in the presidential residence, and all eyes were set on a 29-year-old Princess Diana.
The royal guest starred in an iconic moment when she joined then 31-year-old John Travolta for a dance, a moment that the "Grease" star remembers as a great honor. But many years later, the world learned what Diana thought about this.
As Travolta recalls, former first lady Nancy Reagan requested him to dance with the Princess, telling him that it was her wish to do it. Surprised, but without hesitation, the actor approached her and tapped on her shoulder.
"She turned around and dipped her head in that Lady Diana way and we were off for fifteen minutes dancing," Travolta recalled in a 2007 interview he gave for Dutch TV.
"I know for a fact that it was her highlight in the United States, it was her favorite moment," the actor added, never imagining that he was merely tricked by the Reagan's to create an unforgettable photo of their event.
At least this is what Diana's former butler and close friend Paul Burrell claimed in a documentary titled "The Last 100 Days of Diana," on which he revealed that she had no particular interest in Travolta and had somebody else in mind.
"She said, 'I didn't really want to dance with him though. I wanted to dance with Mikhail Baryshnikov because he is my hero,'" Burrell said.
Travolta might have become famous for his dance steps on the big screen, but a royal like Diana was much more into the legendary ballet dancer.
But even if it is not what Travolta imagined, nobody can steal this moment from him. Even though the Princess danced with other celebrities that night, the dress she wore that night it is still known as her "Travolta dress."
It is not that Diana had anything against Travolta, whom she deemed "a gentleman and absolutely charming," but she had a weakness for ballet in general and for Baryshnikov in particular.
In fact, Diana was passionate about ballet since she was a child, and she dreamed of being part of the Royal Ballet. While she didn't pursue it professionally, it was an interest that always stayed with her.
She even got to perform a contemporary dance piece at the Royal Opera House also in 1985, alongside her friend and former Royal Ballet principal dancer Wayne Sleep.
As Burrell wrote in his book "The Way We Were," Diana had met Baryshnikov once in London prior to the White House gala, and she asked him to autograph a book for her, which he did "without looking at her."
Please fill in your e-mail so we can share with you our top stories!