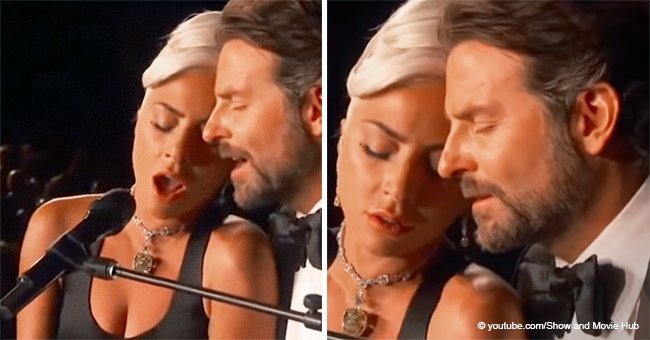 Lady Gaga Blows Away Oscars Audience with Her Strong Performance of 'Shallow' with Bradley Cooper
The audience at the Los Angeles Dolby Theater and those watching at home on Sunday were given a treat when Lady Gaga and Bradley Cooper took the stage at The Academy Awards. The two stars performed the nominated song "Shallow" from "A Star is Born."
The chemistry between the two and Lady Gaga's powerful singing blew away the audience.
For their live performance of "Shallow" Lady Gaga, 32, played the piano. She and co-star on "A Star is Born," Bradley Cooper, 44, shared great chemistry as they sang together.
Cooper sat on a nearby chair before joining Lady Gaga on the piano bench. They finished off their duet by affectionately singing cheek-to-cheek in a moving rendition.
The singer hit all the high notes as her co-singer supported her. The pair ended their incredible performance by staring into each other's eyes.
They smiled and hugged each other as they walked off the stage. Backstage the two hugged tightly again as they were met by a group of production staff who couldn't help but clap for them.
Lady Gaga asked, "Did I nail it?" Looking affectionately and proudly at Cooper the musician said, "I'm so [expletive] proud of you!"
During a commercial break, the pair came out arm-in-arm to and received huge applause from the audience. Cooper kissed and hugged his girlfriend, Irina Shayk when he got back to his seat.
Their song, "Shallow" received a Best Original Song nomination. "A Star Is Born," which Cooper co-wrote and directed, was nominated for Best Picture.
The two actors were also nominated for their starring roles.
For her appearance at the Oscars, Lady Gaga wore a black Sarah Burton design dress. She accessorized it with a 128 carat Tiffany diamond worth $30 million.
The yellow stone jewel was first discovered in 1877 and was displayed at the 1983 World's Fair. It has been used in the promotional materials for "Breakfast at Tiffany's" and featured in the Musee des Arts Decoratifs in Paris during the mid-nineties.
Only three women have worn it so far, socialite Mary Whitehouse, Audrey Hepburn, and now Lady Gaga.
Please fill in your e-mail so we can share with you our top stories!