Jennifer Lopez Turns Heads in a Stunning Metallic Dress on the Oscars' Red Carpet
Jennifer Lopez arrived on the red carpet in a unique metallic piece for the Academy Awards. Her boyfriend also stunned on Sunday night.
The singer and actress dazzled wearing a full silver gown designed by Tom Ford. The long-sleeved dress covered her neck, meaning that little else was required for the dramatic look. 
The dress was created to look like pieces of metal were stuck together for the full length of the dress. Lopez flaunted the shining dress all along the red carpet. Official photos are found below. 
I would love to hang @Jlo from my ceiling and spin her around like a disco ball. She looks stunning. pic.twitter.com/IKatTqnHs1

— Nicole Maffeo Russo (@nicolerusso) February 25, 2019
@JLo can do NO wrong 🙌🏼🙌🏼🙌🏼 pic.twitter.com/qpMstcorPk

— Blake Tanner (@blaketannerX) February 25, 2019
Lopez, 49, accessorized with a small clutch and large silver earrings. Fans took to Twitter to announce her as the queen of the night. One person said they would want to "spin her around like a disco ball." 
At her side, longtime boyfriend Alex Rodriguez made his first appearance at the Academy Awards. He wore a Tom Ford outfit as well. Donned in an ivory suit jacket with a black bowtie and matching pants, he also stole the show. 
Jennifer Lopez + red carpets = match made in heaven #Oscars2019 pic.twitter.com/tkvDR1QeqL

— Karen Civil (@KarenCivil) February 25, 2019
Yet fans couldn't get over Lopez' impeccable red carpet streak. One person said that Lopez and red carpets are a match made in heaven. Another insisted that she "can do NO wrong."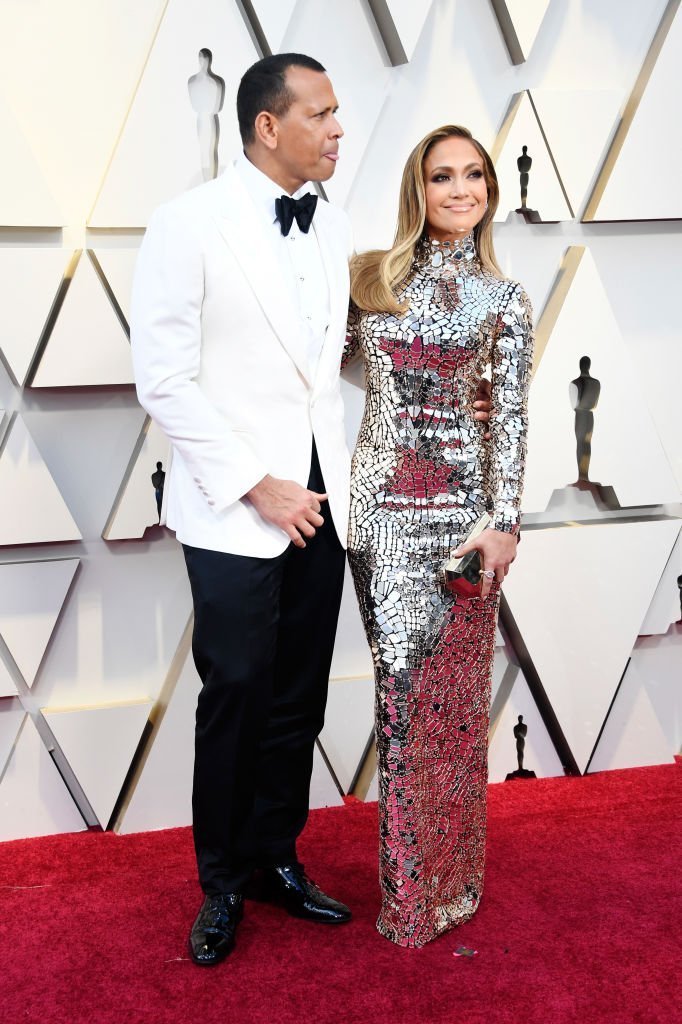 Earlier this month, the mother of two dazzled at the Grammy Awards as well. She wore a breathtaking outfit that featured a wide-brimmed white hat with silver bling trim. 
Rodriguez, 43, again showed out with a daring tie-dyed hot pink and emerald suit. Lopez' gown for the night was another high-necked outfit.
The front of it was littered with jewels that matched those of the hat. The back of the dress featured a middle slit with more diamonds. Jewels were also along the sleeveless edges. 
The couple has proven themselves fashion-wise, but they're also showing that their relationship may withstand the industry. The pair seem to genuinely be going strong. 
This month, they celebrated their two-year anniversary with a public exchange of tributary messages via social media.
Rodriguez wrote: 
"Macha 13, I can't believe it's been two years. Only 730 days, which have flown by, but it feels like we have been together forever. We are meant to be, and how much you mean to me cannot be put into words."
While Lopez also showed her love: 
"You make my world a more beautiful safe and stable place... in the midst of our ever-changing, ever-moving life... you make me feel like a teenager starting out all over again... Every time I think I have you pegged, you surprise me in the most wonderful ways reminding me how blessed I am to have found you now in this moment at this time... our time... Te Amo Macho..."
On a recent segment of the Ellen DeGeneres show, Lopez revealed that she got the best present from Rodriguez for their anniversary. The former basketball player got "Fixer Upper" star Joanna Gaines to get on a Facetime call with Lopez. 
Lopez loves the show and said she totally "fangirled out" for the occasion. She was pleasantly surprised that Rodriguez actually listened to her regarding "stuff like this." It seems like the two really are made for each other.