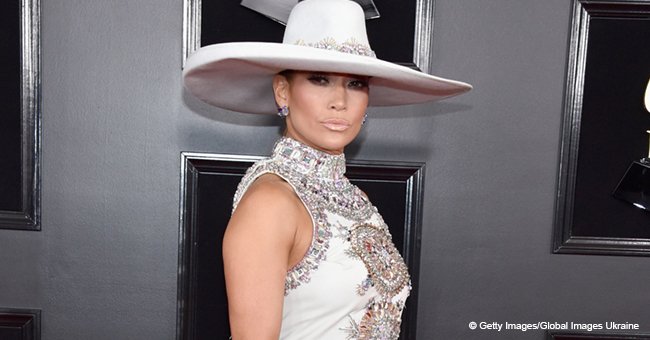 Jennifer Lopez wows wearing a deep back-slit dress and an enormous hat for the Grammy's
Jennifer Lopez dazzled the media at the 2019 Grammy Awards in a breathtaking outfit.
Jennifer Lopez and Alex Rodriguez have just celebrated their second anniversary as a couple, and now they've proved once more that they are entertainment's most exciting and gorgeous couple.
J.Lo and A-Rod sizzled the red carpet at the 2019 Grammy Awards in striking and eye-catching outfits that suited them to a "T."
"Bringing back the pink suit! … sort of. Who is more flashy tonight? Me or Jen?"
THE LOVED-UP COUPLE LOOKED HOT AND DARING
The inimitable, quintessential star, Lopez strutted her stuff in a bold wide-brimmed white hat trimmed with plenty of bling, and a long, slinky white dress that hugged her curves.
Rodriguez, 43, nearly rivaled his beloved in a daring and unusual tie-dyed hot pink and emerald suit teamed with a crisp white button-down shirt and bow tie.
LOPEZ IS AS HOT AS EVER AT 49
The "Jenny From The Block" star is as beautiful and lithe as ever, even though she is now nearing 50.
Her blond locks were styled into a long ponytail that reached her waist and emphasized the dress' sensual back slit trimmed with chains of bling.
Rodriguez glowed with pride and filmed every second of J.Lo's sizzling performance at the Grammy's.
THE KEY TO THE LOOK IS IN THE DETAILS
Lopez pulled the look together with sparkling diamond earrings and a matching bracelet. Her dark eyes were dramatically made up in smokey dark shades, and her lipstick was a luscious nude, matching her beautifully manicured nails.
LOPEZ'S BEST ACCESSORY
As always, Lopez's best accessory was undoubtedly Rodriguez. The baseball star glowed with pride, and he happily confessed:
"My job is to be the camera man!"
Rodriguez has recently melted hearts on social media with a touching post to commemorate their anniversary:
"I can't believe it's been two years. Only 730 days, which have flown by, but it feels like we have been together forever. We are meant to be, and how much you mean to me cannot be put into words."
Rodriguez glowed with pride and filmed every second of J.Lo's sizzling performance at the Grammy's.
A COTERIE OF STUNNERS AT THE GRAMMY'S
Jennifer Lopez had plenty of competition on the red carpet at the 2019 Grammy Awards on February 10, 2019.
Surprise guest Michelle Obama wore a shimmering sequined grey-green pantsuit by Sachin & Babi and looked every inch the First Lady.
Host Alicia Keys wore a lovely flowing emerald green gown with a striking hot-pink and emerald headscarf, Grammy-winner Lady Gaga sparkled in an unusual asymmetrical silver sequined gown with a draped flounce.
Cardi B. had the most cinematic gown by far: A 1995 haute couture runway gown by French fashion designer Thierry Mugler. The dress was inspired by Botticelli's "Birth of Venus" and featured a sea-shell skirt in velvet and satin.
In a related story, actress and singer Jennifer Lopez went to the VMA Awards next to her boyfriend, Alex Rodriguez, wearing a gorgeous silver dress.
Please fill in your e-mail so we can share with you our top stories!