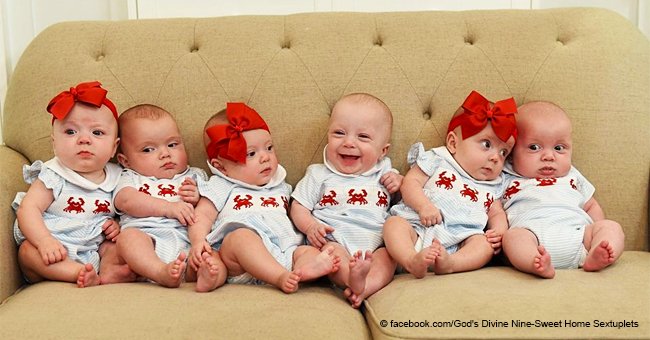 Waldrop Sextuplets Are Already One and They're Growing by the Day

A family of nine in Albertville is celebrating something special — it's the first birthday of their sextuplets. Pictures have emerged on the family's Facebook page showing the kids in high spirit and perfect health.
The children are seen in the photos with each baby posing with their cakes with lovely smiles on their faces.
The sextuplets often referred to by the media as the "Waldrop Sextuplets" were born to the couple, Eric and Courtney Waldrop on the 11th of December 2017.
The couple, with three kids already, a boy and twin boys, decided to have more children.
The couple chose to do this by going through fertility treatments, which most of the time result in multiple births. This was what was done earlier in the case of the birth of their twin boys, but they did not expect it when medical tests showed that they were going to have six babies at a go.
The children were born at Huntsville hospital, Alabama, the first set of six ever in the hospital, and the state since 2011. For the births, a group of 40 medical personnel carried out several drills to get ready for the children's delivery.
The children were born prematurely and had to spend time at the Neonatal Intensive Care Unit of the hospital with each baby having a group of people and color (for identification) attached to it.
The births resulted in a set of three boys and three girls each with their respective colors. The first baby is named Blu and assigned the color Red, followed by Layke in Orange, Rawling in Yellow, Rayne in Green, Tag in Blue and Rivers in Purple.
The pictures of the children's birthday have triggered reactions and comments from people across the country with people commenting on how wonderful the babies looked and how happy they were for the couple.
One Judy Hellums said about them:
"I love this awesome Godly family! Their children are beautiful! Love the wholesome values of this family!"
Another person Cheryl Hudson Trelka Dolan said:
"They are just adorable! I love how they never get angry with each other even when they look exhausted. They obviously love each other and all of their children. I LOVE watching the older boys talk to their mom and about her. They are so sweet, and they love their mama so much! They are such a beautiful family!"
The birth of sextuplets typically draws a lot of attention from the media; there were six recorded sextuplet births in the United States in 2004 and two recorded since 2007 that were born to the Masches and Morrison families.
Please fill in your e-mail so we can share with you our top stories!