Melania Trump Announces Date for the Traditional White House Easter Egg Roll
First Lady, Melania Trump is set to host another edition of the Easter Egg Hunt, and the hunt for the ticket is on.
Melania announced on Monday through a press release that this year's White House Easter Egg Hunt will hold on April 22, at the South Lawn.
The press release stated that President Trump and Melania felt privileged to uphold the annual Hunt, adding that it will be opened to families with children below the age of fourteen as in previous years.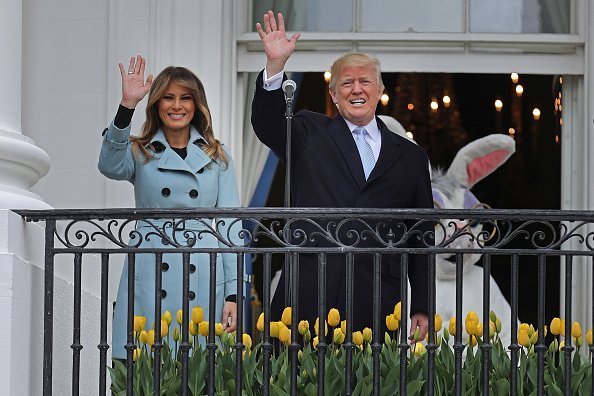 It was also stated that the website for the online lottery will be open from February 28 to March 4. Those successful will get a free ticket to the Hunt and will be informed by email on or before March 4.
The lottery is free, and the tickets are not to be resold. The Easter Egg Hunt commemorative eggs will be made available to the general public.
Melania hosted last year's Hunt at the White House, and those present were President Trump as well as the staff of the White House and their families.
Here are some fun photos from the 2018 annual Easter Egg Roll. Click here for more: https://t.co/e7NMC66v7a pic.twitter.com/n7OTF6Xw4v

— POLITICO (@politico) April 2, 2018
There were about thirty thousand families present, and the Easter Bunny was there to play with the children. The Hunt also featured appearances from celebrities, as well as live musical performances, and the traditional colored egg rolling was not left out.
The Easter Egg Hunt dates back to the 19th century, in 1878, when President Rutherford B. Hayes started what would become a yearly tradition. Although this is the official start date of the Hunt, the Historical Society of the White House stated that it dates back to 1810.
According to them, some historians opined that the idea initially came from Dolly Madison in 1810 and that President Abraham Lincoln and Andrew Johnson's children held the first version in 1860 before it was picked up by President Hayes.
The sights and sounds of the 2018 White House Easter Egg Roll: https://t.co/LyA8aSPV6Y pic.twitter.com/1uvRiaQcWS

— POLITICO (@politico) April 3, 2018
The Hunt was canceled during the First World War, and by the Second World War, it was suspended. That same year, Congress held it away from the South Lawn due to the White House undergoing renovations.
The Hunt has since continued to be a yearly affair at the White House. In 2009, the online lottery and ticket were introduced by Michelle Obama as a way for children all over the country to have a chance at participating, and since then, it has become a highly coveted ticket.