Kendall Jenner Attended Oscars' Afterparty with Her Parents, but Possibly without Any Underwear
Kendall Jenner shocked fans by wearing a risqué dress to the Academy Awards after party. Besides the dress being very sexy, there was the added possibility that she might have worn no underwear under the dress.
After Kendall Jenner stepped onto the red carpet at the Academy Awards After Party, fans could not help but joke that she had won the award for most likely to flash everyone at the Oscars. The supermodel wore a very risky dress. 
The reality TV star walked the red carpet for the Vanity Fair after-party on Sunday night.  Her gown left very little to the imagination. 
Jenner channeled Angelina Jolie's infamous leg slit and upped the ante with her version. She donned a black Rami Kadi Maison de Couture velvet halter dress with double hip-high slits.
The stunning dress was adorned with side fringes of beads and crystals. Jenner's show-stopping dress was part of the designer's spring/summer collection and from the pictures, it appears Kendall may have opted to wear no underwear with the dress.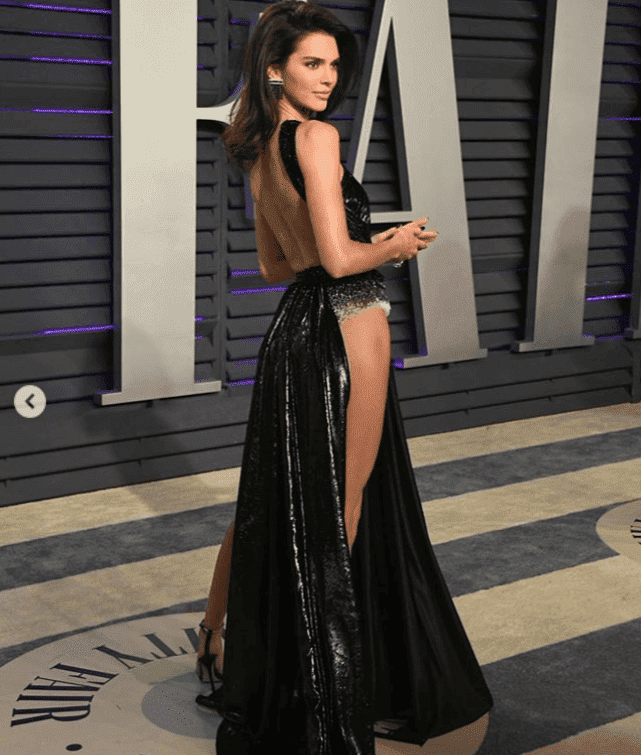 Jenner has never been afraid to show skin. However, this dress is a new level of bold for the supermodel.
Miraculously, the supermodel managed to walk the red carpet and make it through the night without a disastrous wardrobe malfunction. The 23-year-old even managed to have a quick family reunion on the carpet with Caitlyn Jenner.
The two posed for photos together. They also had a quick pic with the former Olympian's partner, Sophia Hutchins. 
Later that night, Caitlyn Jenner revealed to reporters that she believed her daughter could bag an Oscar one day.  She went on to say she thinks Kendall is extremely talented.
"If you've noticed all the things that she's done on-camera, outside of the show, she's just been brilliant," Caitlyn Jenner told E! News. "She's so good at what she does. ... I don't know if she wants to do [acting] yet, 'cause she's so successful at modeling. But at some point, I think she should do that, and I think she'd be very good at it."
Kendall was not the only one to stun fans of the event. Diana Ross blew fans away when she showed up at the event with her children.
The 74-year-old looked years younger in a floor-length black gown with a V-neckline that hugged her stunning curves.