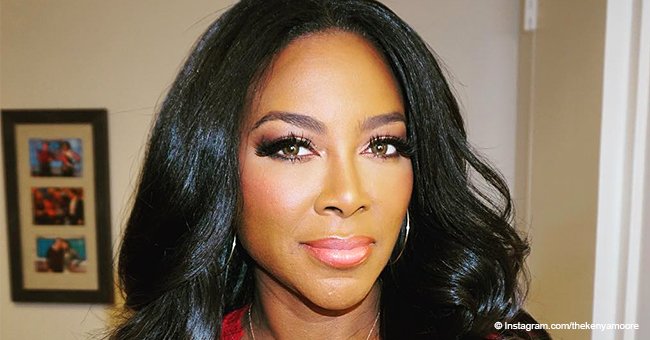 Kenya Moore Shows off Rock-Hard Abs While Revealing the Secret to Her Rapid Weight Loss
Three months after bringing her daughter to the world, Kenya Moore is already showing off a toned figure and rock-hard abs. The former pageant queen had tons of difficulties through her pregnancy and earned over 17lbs in one week. Now, she's sharing her weight loss secret with fans.
Kenya Moore is basking in the motherhood glow after welcoming daughter Brooklyn Doris into the world last November.
The former "Real Housewives of Atlanta" star looks fantastic in a new video shared to Instagram, as she shows off her post-baby body leaving fans impressed with her quick snapback.
In the clip, Moore is donning Calvin Klein gray sweatpants and a white sports bra, showing off her toned abs and slim figure as she takes a sip of her smoothie.
The 48-year-old explained in the caption that she lost 9 lbs in just a few weeks and mentioned being able to fit into a gorgeous white dress a day earlier as an exciting event.
As for her secret to the quick weight loss, Kenya added:
"I do one shake a day to replace a meal and the supplements! That's all! I still work out when I can, but this has been helping me drop the last lbs since having my baby girl. You want my secrets?... I only have a few. Try @bodycompleterx kit."
Fans took over the comment section to praise Kenya and ask some questions about the product. One mother wanted to know if Moore was still breastfeeding and if the product was safe for babies, to which the star replied: "I'm not anymore. It has caffeine so I would ask your doctor. I know there is a daily limit but check to be sure."
And another simply added:
"New mommy where?! That snatch back is real!!!!!"
Kenya and her husband Marc Daly welcomed baby Brooklyn a few weeks ahead of her scheduled date in November after Moore tested positive for preeclampsia, a condition marked by extreme fluid retention and high blood pressure that can lead to serious, sometimes fatal complications.
"In one week, I had gained 17 lbs," Moore said. "I was like, 'Wait a minute, is this scale right?' 'Cause I remembered specifically what my weight was, and at that point, I was at 203 lbs already. And then when they weighed me, I was 220 lbs. And I was thinking, 'Something is not right here. Is the scale broken?' "
Her doctors decided it was in Kenya and her baby's best interest to have her deliver right away, but things got even more complicated, and she ended up having a C-section where doctors had to cut twice, horizontally and vertically, due to some fibroids on the way.
But all of the complications were worth it once Kenya got to hold Brooklyn for the first time. "They laid her down on my chest, and those screaming cries stopped immediately," Moore recalled. "She was just so perfect, so tiny. And just like that, all my dreams had come true."
Now, the proud mom can't stop gushing about her daughter on social media, often sharing adorable pics and videos of the tot and declaring her love for her.
"She's my miracle baby," Kenya told People. "There's no other way to describe it; she's my miracle baby."
Please fill in your e-mail so we can share with you our top stories!