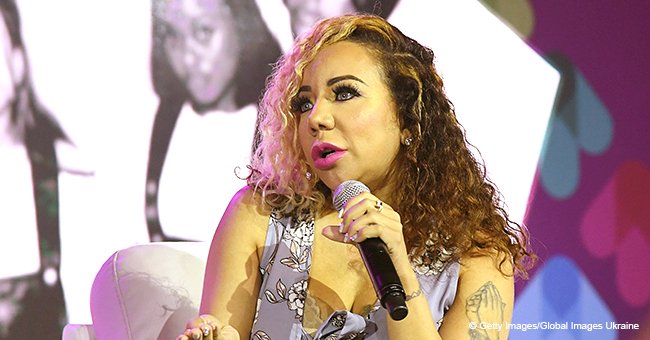 Tiny Posts Upbeat Pics after T.I. Sister's Death, Gets Criticized Because She's 'Not Sad Enough'
Tiny Harris is known as the life of the party wherever she goes, and even after losing a loved one, the Xscape singer has managed to keep a smile on her face. However, her attitude has brushed off some fans the wrong way, as they believe she's not looking "sad enough" in new photos.
Tameka "Tiny" Harris is mourning the tragic passing of her sister in law, Precious Harris, who got into a car accident two weeks ago and sadly passed away on February 22.
Tiny, along with her husband T.I and other members of the Harris family, took to social media to pay tribute to the 66-year-old.
However, one day after Precious' passing, Tiny took to Instagram to share a series of pics with her friends, Monica Brown and Letoya Luckett, as she explained they went out to celebrate the late Harris' life.
Tiny looked stunning in all red, rocking leather pants and a silk blouse that enhanced her curves. She completed the look with Fendi sandals, and let her curly hair loose. She captioned the post:
"On a lighter note...my girls @monicabrown & @letoyaluckett had me out last night. One drink & I was feeling myself lol!! #FamilyHustle #LongLivePrecious #ForeverMyGirl."
Two days later, Harris shared another series of "upbeat" pics, this time with her 3-year-old daughter, Heiress Diana, as they posed for a mommy-daughter photoshoot in front of their Atlanta home.
In the shots, Tiny and Heiress are twinning in Adidas gear and rocked beaded sunglasses as they posed with a pair of yellow cars while showing off their striking resemblance.
"At the crib flexin for the gram with my #Lucky7 @heiressdharris s/o to @caligirleyewear," Harris captioned the pics.
While some fans took over the comment section to keep sending condolences and praise Tiny's strength despite the pain she must be going through; others criticized the singer for "not caring" about Precious' passing and "not being sad enough" for their liking.
"I'm truly a fan of Tiny's, however the family never really seemed grief-stricken, my opinion," wrote one fan.
Another added, "If ya sis or sis n law jus died you'd b smilin from ear to ear a couple daze later? anyways tha pics speaks fa itself [sic]."
And a third one came up to Tiny's defense saying:
"Everyone deals with things differently. You can't expect people who just lost a loved one to be sad 24/7 they have a life to live. Just because their smiling doesn't mean they're not hurting."
Both Tiny and T.I are trying to move forward with their lives, as they believe Precious is now in a better place. "We gone celebrate you & all our great memories of u for the rest of our lives!! We miss u so much lady!!! Till we meet again R.I.H," Harris wrote on an Instagram post celebrating her sister in law.
Her husband, on the other hand, shared a similar sentiment, writing on a heartfelt Instagram post:
"We ALL Love You, Miss you, & Appreciate you for your love, service,& lifetime dedication to US!!! And while We're ALL Happy to see you get your well-deserved wings of eternal peace... free from pain, worries, & anguish... But Still WE ALL REALLY HATE TO SEE YOU GO!!! […] Now we owe you to NOT be selfishly consumed by our pain, but to be HAPPY for you claim your peaceful place in paradise. You earned it sis."
It's clear that the Harris family can see the light even in the darkest situations.
Precious was a regular guest on the family's latest reality show "T.I. & Tiny: Friends and Family Hustle," which is why she was so popular. She is survived by her three children – Kamaya, Avis Chapman-Reese, and Kareem "Plug" Chapman.
Please fill in your e-mail so we can share with you our top stories!