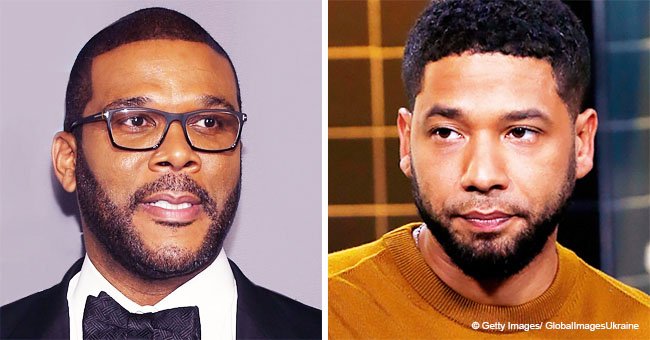 'I'm Standing with Him,' Tyler Perry Speaks out on Jussie Smollett after New Evidence Emerged

Tyler Perry is speaking out and "standing with" Jussie Smollett as the actor faces a felony charge of disorderly conduct for allegedly filing a false report claiming he was assaulted in a possible hate crime last month. Perry's statement comes a few days after new evidence emerged that potentially confirms Smollett did not orchestrate the attack.
During an interview with "Today" show this past Wednesday, Perry was asked to share his thoughts on the Smollett controversy that recently took a new turn with the "Empire" actor's arrest.
"He's adamant that he's telling the truth," said the filmmaker. "Everybody that knows him that I know, they all say he's not the type of person that would ever do that. So it's pretty confusing, so right now it's a wait and see."
Perry also couldn't help bringing up the cases of Terrance Williams and Felipe Santos, two men who disappeared after allegedly getting picked up by a deputy about 15 years ago.
"I've been fighting for justice for Terrance Williams and Felipe Santos … so I wish that that case could have gotten half the attention that the Jussie Smollett thing [got]," he noted before addressing the Smollett situation again:
"Listen, he is so adamant about it and he is so convincing in his story that I'm hoping and standing with him, hoping that it all turns out in his favor, for sure."
SMOLLETT'S ARREST
Smollett, 36, was arrested last week after the Chicago Police Department slammed him with a felony charge of disorderly conduct and filing a false police report for which he could serve up to three years in prison.
The black and openly gay actor was released after posting $10,000 of his $100,000 bond and instructed to surrender his passport. His next hearing is set for March 14.
At a press conference last week, Chicago Police Superintendent Eddie Johnson slammed Smollett for allegedly paying $3500 to stage the attack against him in a bid to draw attention to him because he was dissatisfied with his salary on "Empire."
BEFORE THE ARREST
Smollett's initial report claimed that he was attacked in his Chicago neighborhood around 2 am on January 29 by two masked men who hurled racial and homophobic slurs at him, doused him with an "unknown chemical substance," and tied a rope around his neck.
After weeks of investigation, the police arrested two Nigerian brothers, Abimbola (AKA Abel) and Ola Osundairo who, police say confessed their role in working with Smollett to stage the attack.
NEW DEVELOPMENTS
A few days ago, however, new evidence emerged showing the $3,500 Smollett paid to the Osundairo brothers was not to stage an attack. The memo line of the check, written to Abimbola on January 23, 2019, read: "5 week Nutrition/Workout program Don't Go."
Sources close to the star said he was about to shoot a music video for his new single, "Don't Go," and needed the brothers, who are bodybuilding experts, to help him get in shape.
Smollett's legal team has since said they are gearing up to "mount an aggressive defense" while Supt. Johnson, appearing on "Good Morning America" earlier this week, claims the police have "a lot more evidence that hasn't been presented yet that does not support his [Smollett's] innocence."
Please fill in your e-mail so we can share with you our top stories!