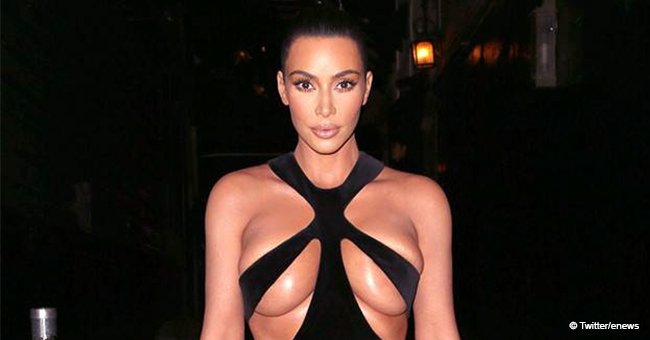 Mom of Two Mocks Kim Kardashian's Half-Naked Dress with Funny Homemade Outfit
A mother of two has gotten very popular after she posted a photo of herself in a homemade outfit much like Kim Kardashian's. The picture is fast going viral, and the reactions are hilarious.
The British blogger owns an Instagram page, @kneedeepinlifeblog, where she makes outfits similar to the risqué ones celebrities are known to show off. She has about 68,000 followers with many more following her after this particular stunt.
The photo features the blogger, Laura, wearing a hilarious dress that she made to look similar to one of Kim Kardashian's most recent barely-there dresses.
Kim K was spotted wearing a Thierry Mugler dress at the Hollywood Beauty Awards last week. The mother of three who isn't afraid to bare it all opted for a rather revealing choice with only a few strategically placed bands of black fabric covered the whole of her torso.
The look left very little to the imagination and intrigued Laura enough to make herself a homemade version. Laura handmade an ensemble a lot like the Thierry Mugler outfit by cutting holes into a black tank top. The result was a comical outfit that looks all torn, but Laura couldn't have been more excited to show it off.
In the photo, she is seen posing with a silly face on while completing the look with watch straps and swimming goggles, which she wrapped around her wrists to look like Kim's high-end fashion accessories. An emoji with a shocked face on is placed to cover what she had left of her modesty in the makeshift dress, and she captioned the photo with a just as hilarious statement saying:
"GOOGLE GOALS..... FASHION.... When they tell you it's on backwards and you say, BITCH PLEASE!! This is fashion. Sometimes it's about accepting budgetary constraints meant you couldn't afford the whole dress, so you just work with what you got and pray your left tit doesn't pop out and start mopping the floor as you make pack lunches."
Her efforts didn't go to waste as the photo has almost 6,000 likes! It has become a fan favorite since she uploaded it on February 18 with Instagram users coming out in large numbers to praise her effort.
It must be one of her most famous works out of the many uploads she's made in the past to parody celebrities and advertising campaigns. A lot of people dig her page, and the reactions to Kim's Mugler dress is particularly outstanding going by the numerous comments.
Totally, in support, a user wrote:
"You my lady make me smile and laugh out loud daily! You just carry on being you! U wonderful human being... life is too damn serious sometimes!"
"You are bloody brilliant!! Thank you from all the real women with mum bods!!"