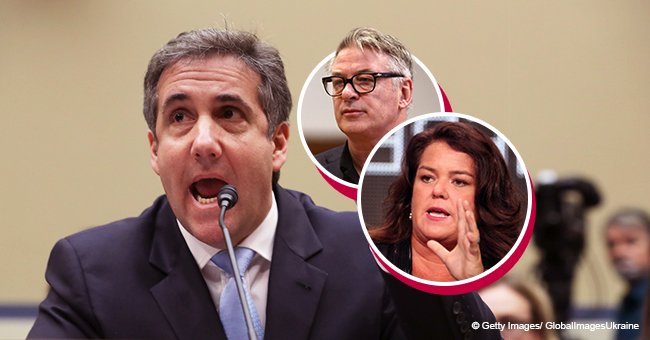 Alec Baldwin on Michael Cohen's Testimony: 'He should get the Congressional Medal of Honor'
Michael Cohen's testimony against his former boss, President Donald Trump, before Congress this week has had everyone captivated. Alec Baldwin took to social media to push for a reward for Trump's former lawyer for his testimony.
Actress and comedienne, Rosie O'Donnell was one of the many stars who was enthralled by Cohen's testimony.
Alec Baldwin shared a post on Twitter asking for Michael Cohen to receive a medal for speaking up against his former boss, President Donald Trump. The actor wrote:
"I don't know if Michael Cohen is truthful, but if he is, he should get the Congressional Medal of Honor for finally...finally...moving us toward the end of this nightmare."
Hoping for an outcome that would please her, Rosie O'Donnell wrote her own post on Twitter along with a picture of Cohen saying:
"oh the gop is [expletive] and we haven't even started... this is gonna be good - trump is going down - OH HAPPY DAY !!!"
Many celebrities who were watching the hearing all took to social media with their own thoughts. Another actor, Mark Hamill from "Star Wars" wrote, "Anything worth watching on TV today?"
He included a gif image of The Joker eating popcorn.
Hamill is the characters voice artist. Another "Star Trek" actor George Takei also took to social media with a similar joke, posting a photo of himself holding a bowl of popcorn ready to watch the testimony.
He posted asking, "Who's watching the Michael Cohen testimony?" Actor Mark Ruffalo from "The Avengers" noted the irony of the Republican's hypocrisy with a Mariah Carey gif.
He wrote, "Republicans when Michael Cohen lies: This is outrageous and disgusting! - Republicans when Trump lies 8,000+ times." "Whose Line Is It Anyway" host Aisha Tyler posted, "This [expletive] is MAYHEM."
Comedian Chelsea Handler said, "This Cohen testimony has shown me a lot of things, but mostly that these rich white men could benefit from a nightly moisturizing routine." John Cusack thought, "It's good for America to see how gop is complete deathkkkult."
The star of "Will & Grace" Debra Messing posted a quote from the testimony about Trump's alleged knowledge of the DNC email hack. Actress Alyssa Milano shared a video from "Vice News" where Cohen alleges that Trump is a racist.
She wrote, "Reminder: He's speaking of the President Of The United States of America." Sean Astin posted, "The putrescent Republican Committee members are not interested in the truth. If a lying, cheating, convicted felon eats a sandwich and ya want to know if the chef is poisoning food, it doesn't matter that the criminal lied about bank fraud."
"Westworld" actor Jeffrey Wright stated, "Mark Meadows really rolled out a black woman...like a prop...to bolster his racism angle. Ok, Tex." Adam Goldberg wrote, "I can't believe I'm rooting for this piece of [expletive]."
Actress Bette Midler wrote:
"THE #RIGHTWINGERS ON THE COMMITTEE SEEM DETERMINED TO DISCREDIT MICHAEL COHEN; THAT'S ALL THEY HAVE. THEY DON'T GIVE A DAMN ABOUT THE TRUTH...CIRCLING THE WAGONS, AND IT LOOKS LIKE THEY WANT TO THROW THE AMERICAN PEOPLE ARE UNDER THE BUS AGAIN."
Michael Kelly thought, "The lowest of low is @Jim_Jordan Your behavior and words are disgusting Sir. You are on the wrong side of history." Actor Josh Gad noted, "How hard do you think it must be to keep a straight face while saying that Michael Cohen is a liar while defending Donald Trump who literally cannot breathe without lying?"
Actress Yvette Nicole Brown shared, "These simple monotone "no's" that @MichaelCohen212 is giving every time the histrionic Republicans ask if he's gonna agree to not make money from his time with Tang are #ComedyGold."
Former "Sex and the City" star Evan Handler wrote, "It's interesting, and all (I guess?), but are we learning anything that any human of any sense at all didn't already know? That DT is a fraud, a swindler, who overstated his wealth, employed glorified hoods, and lied about paying off women? Is there another scoop here?"
Actor Don Cheadle took a sarcastic turn with his post in response to the GOP writing, "who we welcomed with open arms ..." Jon Cryer from "Two and a Half Men" stated, "When they scream "Michael Cohen is a criminal liar!!" remind them: Michael Cohen brought receipts."
During his testimony at his hearing, Cohen spoke about Trump saying: "He is a racist. He is a conman. And he is a cheat." He also revealed a number of the president's misdeeds.
Trump's former lawyer expressed regret for his involvement and repeated: "yet I continued to work for him."
Please fill in your e-mail so we can share with you our top stories!