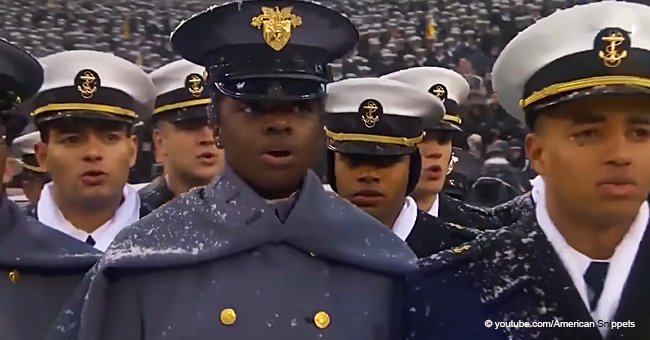 Throwback Video of Army-Navy Choir Doing a Spellbinding Performance of the National Anthem
Remembering one unifying and inspiring moment when the Army-Navy Choir sings the National Anthem to kick off the 118th year of Army-Navy games in 2017.
It was a cold and icy day in December 2017 and spectators, made up mostly of former military members, arrived to cheer for their favorite team at the Lincoln Financial Field in Philadelphia.
The college football rivalry games between the USMA Army Black Knights and the USNA Navy Midshipmen began in 1890. Televised each year since 1945, and the National Anthem is traditionally sung by a choir composed of the members of both academies.
As an act of unity, both the U.S. Naval Academy Glee Club and the West Point Glee Club, stood in formation to salute the flag and country with a most memorable rendition of the National Anthem. The group sang with heartfelt patriotism that was felt by everyone in attendance.
The Star-Spangled Banner's lyrics are from a poem titled "Defence of Fort McHenry", written by Francis Scott Key in September 1814 and set to music by John Stafford Smith. It is played at the beginning of many public events. It has become a practice to invite famous artists to perform the national anthem before major sporting events such as the World Series or the Super Bowl.
Over the years many celebrities such as Whitney Houston, Billy Joel, Kelly Clarkson, and Carrie Underwood are a few who have made standout renderings of The Star-Spangled Banner.
One 7-year-old, Malea Emma, won a social media contest by the LA Galaxy and made her mark on September 23, 2018, by dazzling the crowd with her powerful voice and steady confidence.
The video of her performance went viral and resulted in several tv appearances and more opportunities to sing the national anthem for the extraordinary little "anthem girl".
Please fill in your e-mail so we can share with you our top stories!