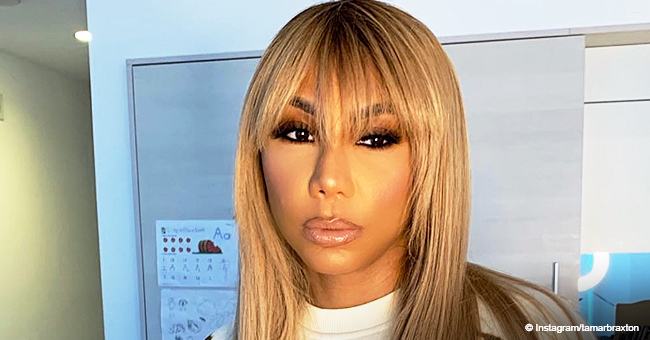 Tamar Braxton's Son Gives Side-Eye as 'CBB' Star Gets Slammed for Calling Herself 'Single Mama'

Tamar Braxton, who recently won "Celebrity Big Brother," took to Instagram to share a photo next to her son, Logan. He didn't look thrilled about the pic, though.
In the image, the celebrity appeared wearing a black ensemble and matching sunglasses while hugging Logan. The young boy was sitting on his mother's lap while holding a bag of Doritos and giving Tamar a "side-eye."
For the caption, the singer admitted that Logan "gives everyone the side eye. It's just he and I looking out for each other and I'm fine with that!! Single mamas stand up!!"
PEOPLE'S REACTION
Even though the photo was adorable, people took to the comment section to complain about the fact that Tamar called herself a "single mama" even though Logan's father, Vincent, is still in the picture taking care of the boy.
"Single Woman not Single Mother Vince is very well active in that Baby Life," admitted one follower.
"Single mama vs Single woman; 2 different meanings," added a second person.
"Tamar is not a single mother, I'm positive Vince is active & present in Logan's life!" finished another user.
LOGAN SLEEPING WITH HER AND HER BOYFRIEND
It is not the first time that Tamar makes headlines with something related to her son, though. During a conversation that Tamar and Kandi Burruss had while shooting "Celebrity Big Brother," the singer revealed that Logan slept with her and her boyfriend, whose real name has not been shared yet.
Kandi seemed surprised and asked if Vincent has gotten upset about Logan being in the same bed with Tamar's boyfriend, who she jokingly refers to as T'Challa, the "Black Panther" character.
The singer set clear that it was not Vincent's business because they were no longer together. Tamar added, "and if [Logan] did that with somebody that [Vince] looked like he was getting ready to get married to, why would I act a fool? I would want him to be close to her."
Soon after winning "Celebrity Big Brother," Tamar revealed that she and Vincent had a good relationship even though they are no longer together. She said that they didn't work together anymore, but that she was glad she got her friend back.
HER RELATIONSHIP WITH VINCENT
"I think there's hope that he's happy and definitely hope for my own happiness because us together and working together was completely toxic," admitted the singer.
At the moment, Tamar is celebrating that she became the first African America ever to win a "Big Brother" show in the United States. She got an overwhelmingly unanimous jury vote of 9-0.
Please fill in your e-mail so we can share with you our top stories!