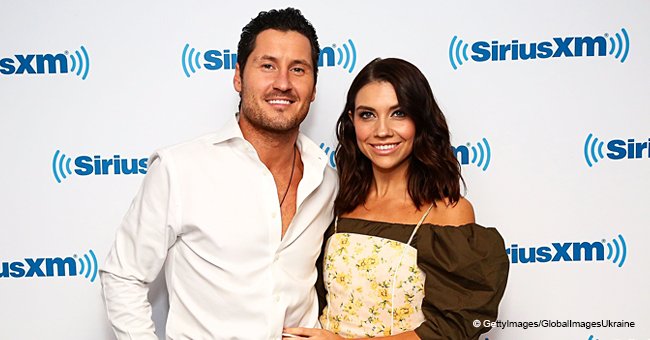 Jenna Johnson Shares Photo in Gorgeous Gown as She Gets Ready to Marry Val Chmerkovskiy
Now that he "DWTS Live!" tour is coming to an end, the professional dancer and bride-to-be is getting ready for her dream wedding after busy and exciting months of planning on the road.
The 24-year-old wedding with her longtime boyfriend, 32-year-old Ukrainian-born professional dancer Val Chmerkovskiy is around the corner, and while we don't know exactly the date, the future bride has hinted that it will be really soon.
Johnson took to her Instagram account to share her thoughts and feelings on her upcoming wedding and tease her fans with a picture of herself trying on a bridal gown in front of a mirror in a store.
"As tour is coming to an end, the realization that I am getting closer and closer to being married is hitting me!!
-Jenna Johnson, Instagram, March 3, 2019.
The pro dancer appeared in a beautiful white beaded gown while standing on a pedestal, and we can see her checking out how she looks from behind. And you can see for yourself that she looks amazing.
"It has been a crazy whirlwind trying to plan my dream day on the road as well as dance my heart for all our beautiful fans at night. I'm forever grateful for these past few months and even more excited for what's to come," Johnson wrote.
She also made clear that the dress she is wearing in the picture is not her actual wedding dress but "just one of the many" she tried on. While she "loved" the aforementioned gown, she has already picked another one.
Back in January, Johnson announced that she had found her perfect bridal dress at a renowned shop in New York City called Kleinfeld Bridal, and she told People magazine about it.
"Now I'm just excited and ready for the big day," she added with relief after having checked that out from the list.
Johnson talked to ET while rehearsing for the DWTS tour early in December, and she said she loved the sound of her name now that she was about to use her future husband's exotic last name.
"You know what, I'm going to have 13 letters in my last name now... I love it! I was always just like a boring Johnson, like 'Jenna Johnson.' His [has], like, character -- no one can say it right," she joked.
The two lovebirds got engaged back in June 2018 during a trip to Italy after being dating on and off since 2015. The romance became public in 2017.
Recently, Chmerkovskiy revealed that their relationship and his own life could have been cut short before their first date, as his future wife almost ran him over with her car.
This incident ended up with Chmerkovskiy inviting Johnson to his house for the first time, and the rest is history. "She came over, I taught her how to play chess, and that was our first date," he told Yahoo Lifestyle.
Please fill in your e-mail so we can share with you our top stories!