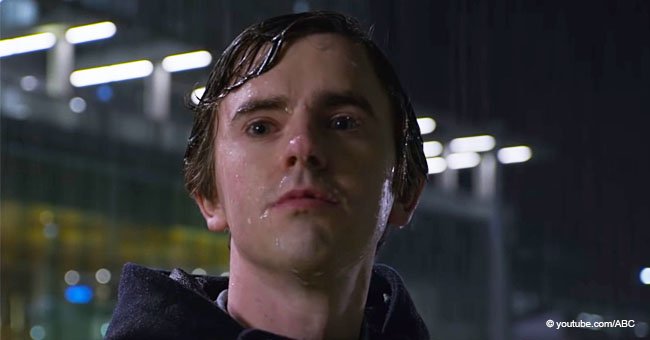 'Good Doctor' Fans Need to Repair Their Own Broken Hearts after Shaun's Breakdown in Last Episode
Dr. Shaun Murphy stood up for himself asking to be reinstated when he saved a patient, but Dr. Han only took his persistence as a sign of immaturity, and the conflict sends Shaun into an emotional breakdown.
After previously making it clear to Dr. Jackson Han, the hospital's chief of surgery, that he was unhappy in pathology and wanted to return to the surgical residency program, Shaun's instincts help save a patient's life.
Armed with renewed confidence, Shaun walks into Han's office asking for his old job back. When Han expressed he had no intention to grant the request, it set Shaun off into an emotional outburst insisting, "I saved the patient. I deserve to be a surgeon. Dr. Han, I want my old job back. You are making a mistake."
Han did not budge prompting Shaun to continue saying, "No, I'm a surgeon. I am not leaving your office until you reinstate me."
Han gave him one last chance to leave his office with dignity before calling security. And the scene cuts to the locker room where Shaun is seen having a breakdown as he removes his things from his locker. As Shaun picks up the contents of his backpack off the floor, his toy scalpel falls, and he repeatedly rubs at it until the blade snapped. He sits down in a trance and Claire arrives, helps gather his things, and sits quietly next to him.
Shaun walks away in the rain, still in shock before turning to look back at the St. Bonaventure Hospital.
Fans took to Twitter to express their compassion for Shaun and the heartbreaking episode. Amelia Parreira wrote, "Someone please help repair my broken heart after watching tonight's episode of @GoodDoctorABC."
The charismatic character of Dr. Shaun Murphy is played by actor Freddie Highmore.
The actor says that playing this fictional character on the show required much research while working closely with writer David Shaw, and having a consultant on board, as well.
Their goal was to responsibly portray a person with autism and Savant syndrome, sharing appropriate insight into the condition.
"What we are trying to do is moving away from perhaps the stereotypical versions of people with autism that have been shown on television and in certain movies in the past."
The team also wanted to show his progress and development as he is immersed in a new environment faced with all the new challenges it brings. Highmore adds that his character has grown a lot in just two seasons, saying,
"And obviously that innocence that he had of the situation changes over time. And just because Shaun has autism, that doesn't mean he's not going to grow and change as a person. And so I guess one of the things I'm most proud of, over these first couple of seasons, is that we've managed to show how he is progressing and learning."
The actor hopes that his portrayal of Dr. Shaun Murphy will expose and educate the public and give them a better understanding of autism.
Please fill in your e-mail so we can share with you our top stories!