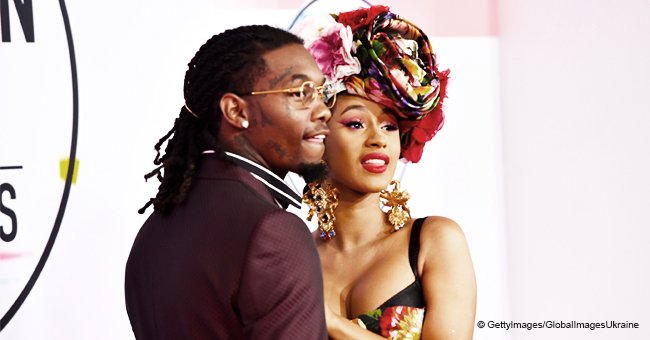 Mother of Offset's Oldest Daughter Credits Cardi B for Making Him a Better Man
Shya L'Amour, one of Offset's baby mamas, has given props to Cardi B for helping the Migos rapper become a better man and father. Just a few days earlier L'Amour had blasted Offset on social media after feeling offended by lyrics from his new album.
Tampa rapper Shya L'amour is the mother of Kalea, Offset's eldest daughter. And even though they've had their differences in the past years, Shya recently admitted in an interview with TMZ that the Migos' member has matured a lot since he started a relationship with wife Cardi B.
According to Shya, Cardi has been a good influence on the man and has helped him "grow tremendously."
"Since he's been with her, I've seen a lot of growth," she said. And when asked if Cardi has welcomed his other kids around, she added,
"She does [embrace Kalea], she does. I can see her heart. She has a really good heart."
Kalea and her siblings: Jordan, Kody, and Kulture, were officially introduced to the world on the cover of "Father of Four," Offset's first EP as a solo artist.
In one of the songs, Offset name-dropped the 3-year-old, asking for her forgiveness since he missed the first years of her life. He rapped:
"Kalea, you my first, first daughter / I missed the first years of your life, I'm sorry / Tell the truth, I ain't really know if I was your father / Tell the truth, I really don't even know your mama."
Indeed, the adorable girl was the product of a Fourth of July one-night-stand between her parents. At the time L'Amour was living in Atlanta, and when she first reached out to Offset offering him to take a DNA test, she was met with rejection and blocked from all social media.
After hearing the lyrics referencing her daughter, Shya was caught off guard and took to Instagram to vent about the situation. "I feel like lowkey he put the blame back on me by saying [he] didn't know me when it was both of our faults," she stated.
The 30-year-old also revealed that she was all by herself by the time she gave birth, and that Offset met Kalea when the girl was already 1-year-old.
However, L'Amour later apologized for her outburst, explaining that she got caught in her feelings and assuring that all is good between her and the father of her child.
Most importantly, she says Kalea loves her daddy.
"He has stepped up, and he has been around, as of lately, to show that affection that she needs - that parental love that her mother can't do that for the father," she said. And added of her relationship with Offset:
"In an ideal scenario, just get on the same page, man. Just gotta have an understanding and keep an understanding. I feel like communication is key to a lot of misunderstandings."
Talking about his kids to Esquire, Offset mentioned he wants to make sure he's present in their lives to build a more positive model of fatherhood than the one he got from his biological father, with whom he last spoke years ago.
"Have you seen my kids?! They're beautiful" the Red Room rapper bragged. He added that the kids help him keep grounded because when he gets home from work, he gets to unwind, relax and be a "regular person."
"I cried to myself while I was doing this album 'cause I was talking about my story and my kids," he said of the new record.
"When I did a song, I started getting memories of my grandma, my struggles, my partner that was killed, the thoughts I had while I was incarcerated, and my kids' faces were there in my head. I love my kids; this is who I do it for."
Now that Offset and Cardi B are back on track with their marriage, the rapper couldn't be in a better place. The couple is currently on a tropical vacation, and the "Money" rapper has been documenting the trip on social media.
Please fill in your e-mail so we can share with you our top stories!