Bride Angry as Fiancé Reportedly Returns from Stag Do with Severely Burnt Hands Days before Wedding
A bride-to-be is reportedly furious after her fiancé returned from his stag do with burns on both hands just days before their wedding.
Like most grooms-to-be, this unnamed groom must have set out to have some fun with his friends at the stag do (the equivalent of a bachelor party), but things didn't end quite well.
His bride, an anonymous Canadian woman, took to Facebook to share her experience with family and friends, reports The Sun. Also confused about how to handle their upcoming wedding this Saturday, she asked for "words of wisdom."
Bride furious after fiance returns from his stag do with TWO burnt hands https://t.co/x9clQSCjq2

— The Irish Sun (@IrishSunOnline) March 5, 2019
Posting a picture of one of her groom's bandaged hands, the angry bride wrote:
"My fiance came home yesterday from his bachelor party weekend at a cabin. He had severely burnt BOTH of his hands. We ended up being at the hospital for [five-and-a-half] hours last night getting him treated. We are getting married THIS Saturday. Here is a pic of one of his hands all bandaged up. Any advice or words of wisdom in how to get through the next few days as well as our wedding day? (One of my bridesmaids suggested I post here because she's sure some of you must have similar stories)."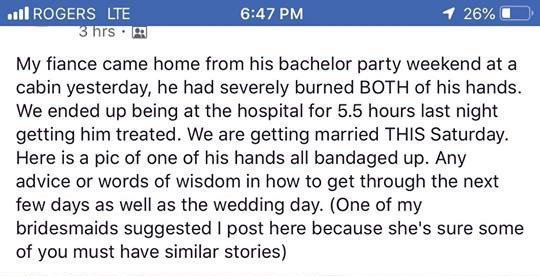 SOCIAL MEDIA REACTIONS
Hundreds of sympathizers have so far commented on the bride's post, with some sharing similar stories, so she doesn't feel alone. A few have also reportedly come up with various theories of how the groom might have gotten the burns.
Fireworks, gasoline, and a campfire gone wrong are just some of the suggestions being put up.
"My husband's cousin burned a good bit of his body at his bachelor party," offered one Facebook user. "Some idiot threw a gas can in the bonfire, and it blew up, and the fire went right on him. Poor thing looked horrible at the wedding, but he made it to his wedding - in horrible pain, but he made it."
BACHELORETTE PARTIES GET WILD TOO
As bachelor parties can go a little crazy, so can bachelorette shindigs. In a Cosmopolitan feature piece from 2017, one maid of honor narrated how she organized the party at her ex's bar and ended up recording a scandalous night.
Not only did the bridal party have too much to drink and embarrass themselves, but the party planner blurted out that she wanted to have sex with her ex in the bathroom and ended up lying shirtless on the sidewalk.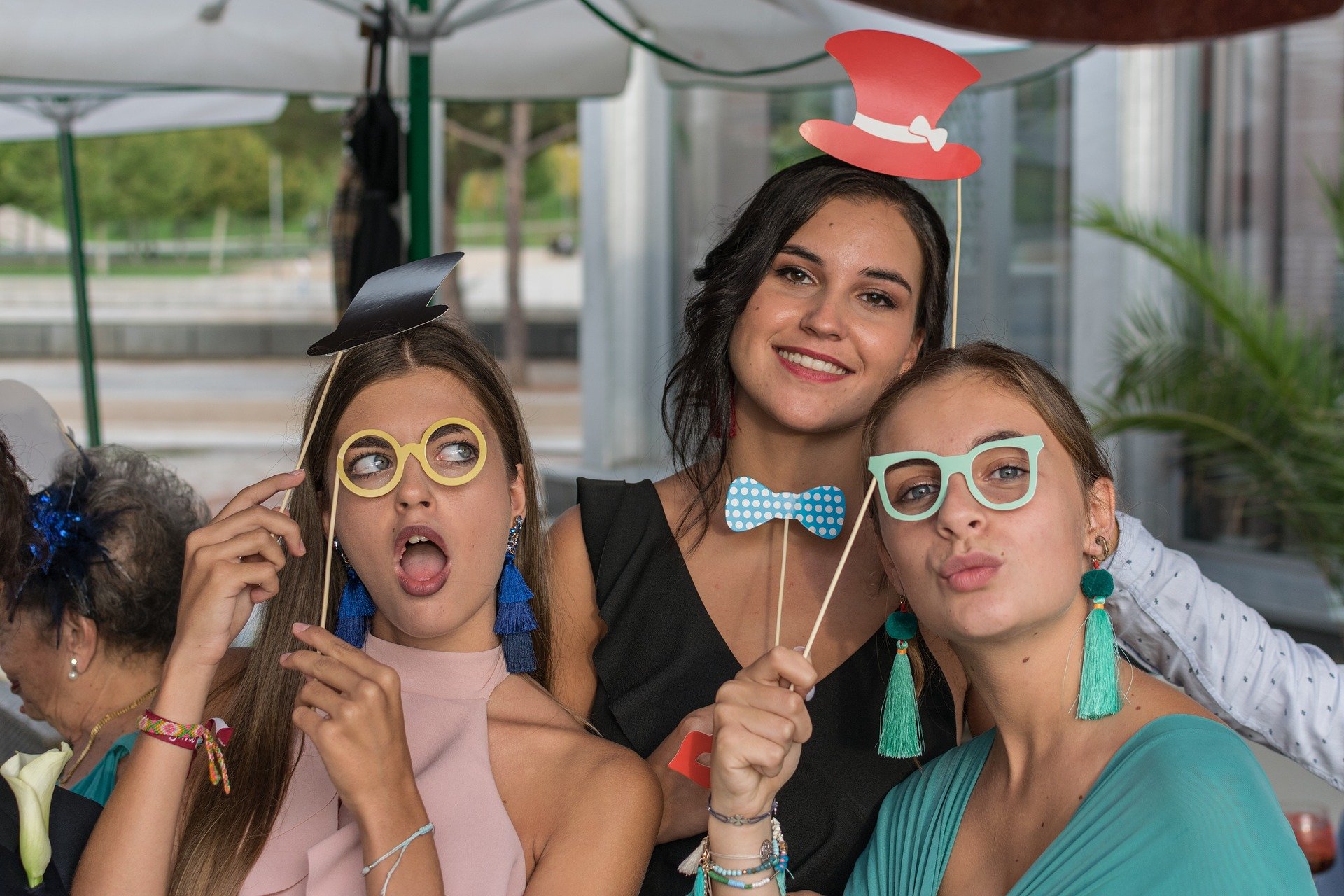 AWAY FROM THE NORM
For most, however, the scenarios described above capture the mood of most bachelor or bachelorette parties where friends are celebrating the bride and groom's exit from the single life to marriage.
What would raise eyebrows is a maid of honor organizing a "funeral" for the bride-to-be, something Kristi Hamby did for her friend, Lizzy Hart, in August.
Lizzy was getting married in October, and Kristi decided to do something unique for her friend who loved gruesome details.
The result: "A funeral for Lizzy's singlehood."
Yes, it's as curious as it sounds, complete with RIP balloons and a hearse. Read the full story here.