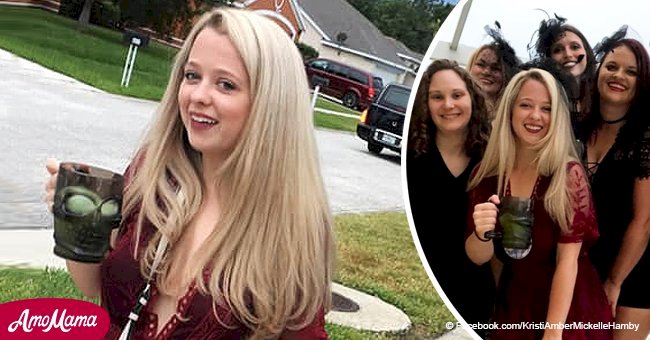 Woman ditches bride-to-be's hen do and instead holds a 'funeral for her singlehood'

Kristi Hamby, from Florida, decided to host a funeral for her best friend Lizzy Hart's singlehood instead of hen do.
As reported by UNILAD, Hamby, 27, was given a task recently to organize a bachelorette party for Hart, who is getting married this October.
Women usually keep the bachelorette party more light-hearted. However, Hamby decided to do things uniquely for her best friend. Follow us on our Twitter account, @amomama_usa, to learn more.
She ditched Hart's hen do and instead hosted a funeral for her singlehood. Her idea turned out to be brilliant.
In an interview with UNILAD, Hamby said that Hart should "deserved a bachelorette party as unique as she is." Since Hart is interested in horrible things, she decided to throw a funeral for her singlehood.
During the party, all of the girls were all dressed up in black, complete with veils. Hamby completed the horror-themed night with bloody games and decorations. Wearing horror masks, the butlers transported Hart to the party.
"I love party planning so I refused to do anything short of going big for this one," Hamby told UNILAD. "My biggest obstacle was finding a hearse that would transport her to the party. I spent months emailing and calling every funeral home in Orlando asking if they could provide a live person transport and the response was not ideal."
She added, "Eventually a funeral director gave me the number of a limousine company that had a hearse and they were available! I even asked the driver not to speak to her or acknowledge her the entire time to make it as awkward as possible, and she loved it."
Before the bachelorette party, Hamby already teased Hart with hints about the theme because she knew how excited she would be for the party.
According to Lizzy, the funeral idea couldn't be more perfect. "When we pulled up and the girls all had sombre faces, I couldn't believe how well they were all playing along," she told UNILAD. "We walked into the house and the entire place looked like a memorial service. Kristi did an amazing job at keeping everything a secret and really going all out with the theme."
"It was hilarious and a party I will never forget. It was absolutely the best party I could have had. I'm very into everything horror and morbid so it was perfectly suited for my liking. I'm so lucky to have a group of friends that are willing to go along with my darker side. Kristi knows me better than anyone so I knew she would make it perfect," she added.
Having been friends with Hamby, who is getting married next year, since the first day of kindergarten, Hart is now planning to take her to Colombia for her bachelorette party.
Please fill in your e-mail so we can share with you our top stories!