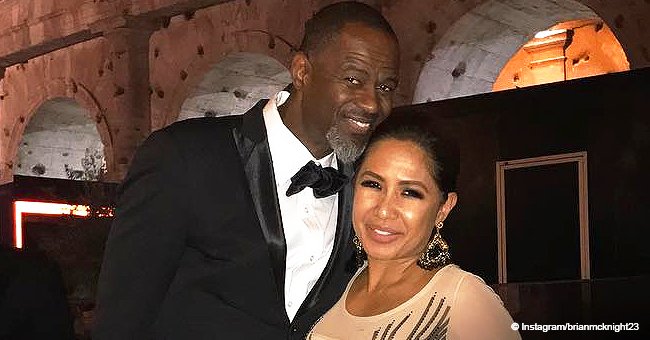 Brian McKnight's Filipina Wife Screamed with Joy as He Gave Her $150K G-Wagon for Her Birthday
Grammy Award-nominated singer, Brian McKnight, recently gave his gorgeous Filipina wife the surprise of her life, and he took to Instagram to share her reaction.
Leilani Mendoza was probably expecting an expensive gift from her husband for her birthday but is safe to say from her reaction, that the actual gift was more than she ever dreamt of.
In a clip shared by McKnight on Instagram on February 9, Mendoza is seen wearing a red bathrobe as she follows Brian to the door of their garage. She couldn't contain her scream of excitement after watching her gift, immediately turning to Brian, who was smiling at her, to give him a big hug.
"Happy birthday baby," Brian said before kissing his wife, who couldn't fight the tears back. And as they held their embrace, the singer said, "I promised you," and urged Leilani, who is a neurosurgeon, to give a closer look at her gift.
The cause of Leilani's tears was a $150,000+ 2019 Mercedes Benz G-Wagon. In the caption, Brian revealed that Leilani always said that was her dream car, so he bought one for her. He wrote:
"The reaction. Happy birthday baby you always said this was your dream car so I got it for u I'm so very much in love with u #happybirthday #leilanintines #gwagon19 @leilani_211."
Fans of the R&B crooner took over the comment section to share their thoughts on the birthday present, with most gushing over McKnight's thoughtfulness and evident love for his bride.
"Happy Birthday beautiful Leilani!!! You deserve it girl!!! Love love surprises. Yay!!! Also love that new gift. You'll look wonderful in it!!! God bless you all your days. Perfect surprise Brian!!!" wrote one user.
Another added, "Awwah. What a #beautiful moment to be captured." And a third one chimed in to say:
"OMG!!! That reaction was the best!! Happy Birthday, Girl! You are going to look wayyy too fly in that badass G wagon!!!!"
Brian also captured and shared Leilani's first time driving the vehicle. Still clad in her bathrobe, Mendoza took a ride around the block, as she kept repeating "wow" and "oh my god baby, you're so good to me."
Brian and Leilani started dating in 2013, the same year he finalized his divorce with Julie McKnight, the mother of his two sons: Brian Jr. and Niko.
Three years later, they announced their engagement, and on December 29, 2017, the couple tied the knot at Oheka Castle Hotel & Estate in Huntington, New York.
On Valentine's Day, McKnight proved he's whipped by Leilani, as he shared a collage of pics of them through the years, adding a romantic caption that read:
"Awww baby #leilanintines thru the years this year being our sixth I must say that you never cease to amaze me, inspire me, Get me ridiculously hot just looking at you or even just thinking about you. Happy Valentine's Day I can't wait to make more love and more memories with you. I'll NEVER get enough #brianized #mr&mramcknightworldtour #leilanintines."
McKnight is one of those R&B singers that have stayed relevant for years thanks to his timeless music and elegant style.
Better known for hit songs like "One Last Cry," "Anytime," "Back At One," and "Find Myself In You," the 49-year-old has not limited his talent to the recording booth. He has acting credits on Broadway, film, series, and has also hosted a radio show and a late-night show.
These days, Brian is back with new music, after he released the single "When I'm Gone," a sultry ballad in which she questions his girl if she misses him whenever he's not around. The song is part of Brian's upcoming fourteenth studio album "Bedtime Story," which will offer his fans around 60 minutes of "baby-making" songs.
Please fill in your e-mail so we can share with you our top stories!