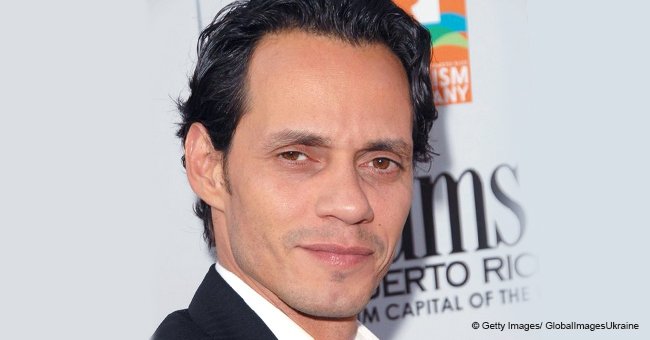 Marc Anthony's Rendition of the National Anthem Was so Good That It Still Leaves People in Awe

Marc Anthony delivered what is hands-down one of the best performances of the national anthem till date, but what makes it so unforgettable is not what you'd easily imagine.
"The Star-Spangled Banner" has recorded several hits and misses in the hands of various music artists and almost every year, we wait to see those who will either murder the song or make it shine.
In 2011, when the Miami Heat and the Dallas Mavericks faced off in game six of the NBA Finals, it was Anthony who led players and the audience in a rendition of the national anthem.
"It's beautiful because he sang it the way it's supposed to be sung."
Appearing on the court in a simple ensemble of white jacket, matching shirt, and blue jeans, the two-time Grammy winner, proceeded to thrill the audience with his voice.
Anthony delivered a pitch-perfect rendition of the song, hitting every note and showcasing his incredible vocal prowess. So good was the salsa singer's performance that till this day, many marvel at how much it sounds like a professional recording.
Eight years later, internet users are still hailing Anthony's performance as a top contender in the "Best National Anthem Rendition" category, but what most people find unforgettable about it is surprising.
A couple of celebrities, while performing the national anthem, have attempted to spice things up, introducing vocal twists or extreme pitch variations that eventually hit the wrong notes, but not Anthony.
The record producer who was once married and had kids with singer Jennifer Lopez maintained the integrity and simplicity of the anthem but still managed to turn it into a masterpiece.
Reacting to footage of the spellbinding performance, hundreds of YouTube users penned glowing remarks to the NYC-born musician of Puerto Rican descent.
"Wow!" gushed one fan. "The Best Male Version of USA National Anthem In The History. I Salute You, Sir. God Bless America."
A second person pointed out the reason Anthony's rendition is such a delight.
"Everyone talking like they love this 'version,' it's beautiful because he sang it the way it's supposed to be sung. This song is perfect exactly the way it was written a long time ago. People need to quit adding their own flare to it cuz it doesn't need it."
"His voice is pure velvet. It softly massages my ears and soul," chimed in a third viewer.

Screenshot of a YouTube user's comment on Marc Anthony's performance. | Photo: YouTube/Gabbee
Like Anthony, the late Marvin Gaye was another artist who knocked the song out of the park during his 1983 rendition of the national anthem. His performance ranks up there with that of the legendary Whitney Houston in 1991.
More recently, singers like Kelly Clarkson and Anthony Hamilton have received the thumbs-up for their renditions, while former "Black Eyed Peas" artist Fergie, so far seems to be the top contender for worst national anthem performance.
Please fill in your e-mail so we can share with you our top stories!