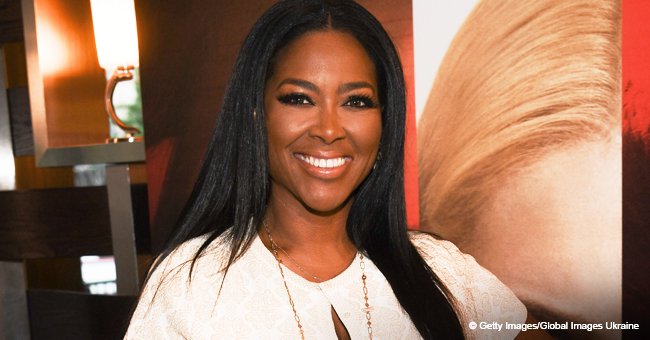 Kenya Moore's Baby Daughter Brooklyn Tries to Say 'Hi' in New Video
Kenya Moore recently shared a very adorable video of her baby Daughter trying to say "hi," on her Instagram page.
Kenya Moore Daly, an American actress who is best known for co-starring in the Bravo series, "The Real Housewives," recently took to Instagram to share a cute video of her very young baby daughter, Brooklyn Doris Daly trying to say "hi."
Kenya turned forty-eight on January 24th and had just recently given birth to her "miraculous" baby daughter Brooklyn a few months back.
The main reason Brooklyn was tagged a miraculous or extraordinary child is because of her mother's age when she was born. Since then, the young girl has been the center of all the attention given by Kenya's fans and loved ones.
This has been demonstrated easily as Kenya Moore's post on Instagram has received so much love and attention just hours after she shared the charming video.
This isn't the first picture that Kenya has displayed on her Instagram handle! Brooklyn even has her own Instagram profile, where loveable photos are posted at intervals.
The beautiful child already has a fan base. Brooklyn is the first child of Marc Daly, her father and Kenya Daly, her mother. The couple, who got married two years ago, was blessed with their first child just a year after their matrimonial ceremony.
The presence of a child has undoubtedly strengthened their bond as lovers and as parents. It is no surprise that Kenya is thinking of having another child. It is still unknown if she wants to adopt a child or not. As it stands, Kenya is having the time of her life as a mother and is enjoying every bit of it.
It has also been revealed that Kenya experienced a complicated and scary labor and delivery, which might be due to her age. This is just one of the many reasons why Brooklyn is seen as a special youngster. Another unique feature of Brooklyn is that she seems to be left-handed.
In a post shared directly on Brooklyn's page, Brooklyn placed her left hand in her toothless mouth. The caption below the cute post said;
"Mommy thinks I tell funny stories! She also thinks I'll be left handed. What do you think? #babydaly #miraclebaby #brooklyndaly."
Whether Brooklyn ends up being a southpaw or not, her uniqueness remains certain.
Please fill in your e-mail so we can share with you our top stories!