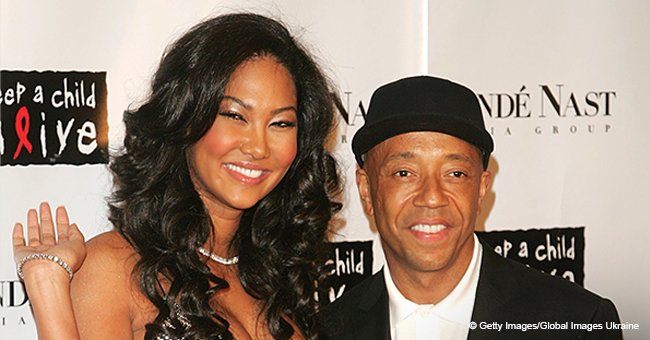 'Leave Me Alone!' Kimora Lee & Russell Simmons' Daughter Aoki Reveals She Is a Victim of Bullying
Aoki Lee Simmons vents out her frustration over a boy in her school who keeps calling her the N-word. "He just cannot stop," she says in a live video feed.
Kimora Lee Simmons' daughter has had enough. Aoki Simmons went live and aired her grievances concerning one particular boy in school who's been bullying her for years.
Aoki emotionally shared to her social media fans on Thursday that she's "so over people at my school being racist and no one doing anything about it."
"I've been asking you since I've known you. Three years in the same school, I've asked you to stop it. And he's not, and it makes me so mad!"
She went on to explain the kind of bullying she's been under, describing one boy in particular who keeps saying the N-word "like it's his favorite thing to say."
"He just cannot stop," she tells her followers.
"I don't even use it like that and he just loves to use it and see how far he can push it, and see how many people he can offend, and all his friends don't care, and they all think that they are nice good people as friends, but they don't stop him."
Aoki also says she refuses to spend any more time on the boy because she's too busy with school work and trying to go to Yale and Harvard. But it has to stop. She shares one incident when the boy kept bothering her while she was concentrating on schoolwork.
"So, he's done many things to me. We were put in a group together, forced. He is a goof-off, so I'm doing the work … So I'm doing that thing when you're writing, and you're thinking … I guess he found that weird so he looks up from his phone — Mr. Doing No Work — and he goes, 'N—er, are you on crack or something?' I was like 'What? What are you talking about? Leave me alone!'"
Aoki says she's told the guy several times to stop calling her the N-word but to no avail.
"I've been asking you since I've known you. Three years in the same school, I've asked you to stop it. And he's not, and it makes me so mad!"
She adds that she has no intentions of taking her matter to school officials because she knew when that happened, the guy would be expelled. Instead, all she asks is he leave her alone.
Furthering her cause, the 16-year-old posted a message on her Instagram story to say enough is enough.
"I can't fight every person who uses racial slurs, but you can be damn sure you're not going to call me the N-word in class during group work. I can't stand people sometimes you think that stuff dosnet [sic] happen in a nice school or a nice neighborhood but rest assured it does. I've had ENOUGH your[sic] going to stop telling me I'm not Black because I'm mixed and your [sic] going to stop telling me I'm the only black person that dosent [sic] like to be called ni**a."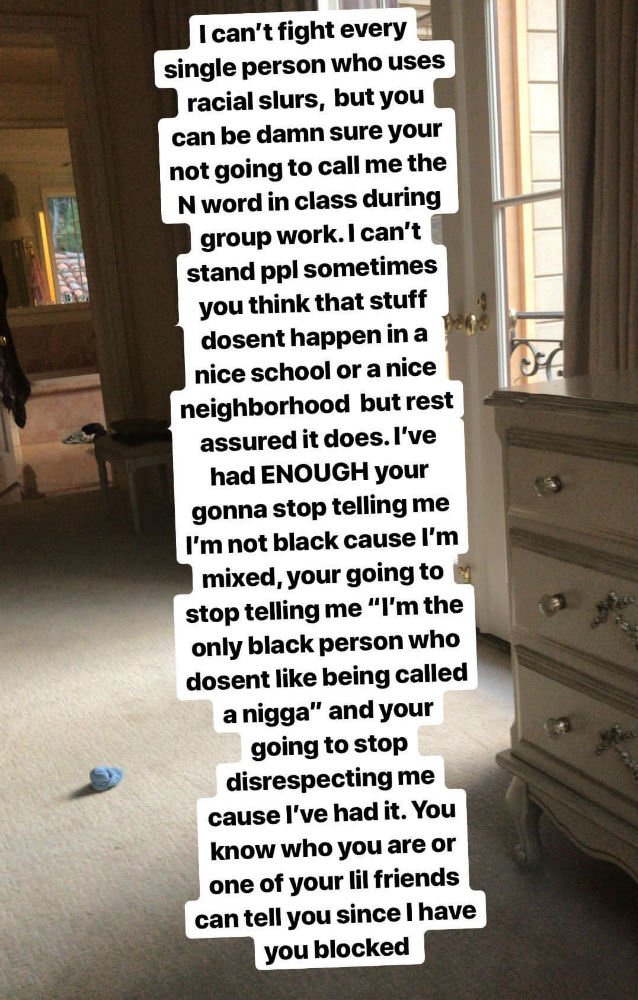 Source: Instagram / AokiLeeSimmons
Aoki is Kimmora's youngest daughter with her ex-husband Russell Simmons. The teenager is fearless and has been very vocal about her thoughts on bullying in the past. When an internet troll criticized a photo of her mother and her sister, Ming Lee Simmons, she fired back. The critic commented about the mother-daughter duo not being "cute" and offered "a nickel for having an opinion." Aoki retaliated and said,
"Honey you better keep that nickel, you probably need it for your rent."
Clearly, Aoki was not going to allow anyone to mess with her family, more so herself as her recent pronouncements reveal.
Please fill in your e-mail so we can share with you our top stories!