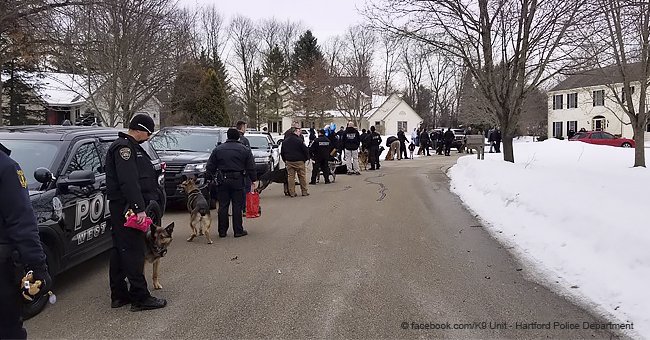 Gravely Ill 7-Year-Old Girl Who Loves Dogs Was Visited by 40 Police Depts. with K-9 Officers
A 7-year old terminally ill Hartland girl is receiving all the love she can get from the world and the police department did not step back from adding joy to her life.
Emma Mertens, who has an avid love for dogs, was visited by around 40 police departments from the states including K9 officers at her home. She was diagnosed with a rare brain disease in January.
"Today, just a few of us (roughly 40) stopped by to see Emma. She had no idea we were coming so she was VERY excited. What an amazing and strong little girl. It was such a great morning," the Hartford Police Department wrote in a Facebook post with a hashtag #teamemma.
Mertens family took to social media to thank the police department for the heartfelt gesture.
"There are no words....Pure Joy! Thank you to everyone who took the time to organize and participate in this. Emma is still all smiles! Over 35 different departments and many more K9s and officers," the family wrote.
After Emma was diagnosed with Diffuse Intrinsic Pontine Glioma, she asked people for the photos of their dogs to "brighten her spirits" during treatment.
In an effort to cheer her up, a thoughtful family friend sent her a letter from her dog and asked her friends to do the same. The heart touching gesture became viral in no time after it was shared around by friends.
Emma's father Geoff Mertens shared how it felt like to receive such love from strangers around the world.
"Those friends shared it with their friends and so on and so on and it just literally went viral to where it's been shared, I can't even imagine how many times it's been shared," he said.
Emma has received more than 75, 000 notes from around the world ever since the letters went viral.
The 7-year-old is currently getting treatment for her life-threatening disease.
Dogs have a way of cheering people up, even in the darkest of times. No wonder we love them so much. A few months ago, a Massachusetts mayor took his dog on a road trip after it was diagnosed with hemangiosarcoma, a fatal form of blood cancer.
Please fill in your e-mail so we can share with you our top stories!