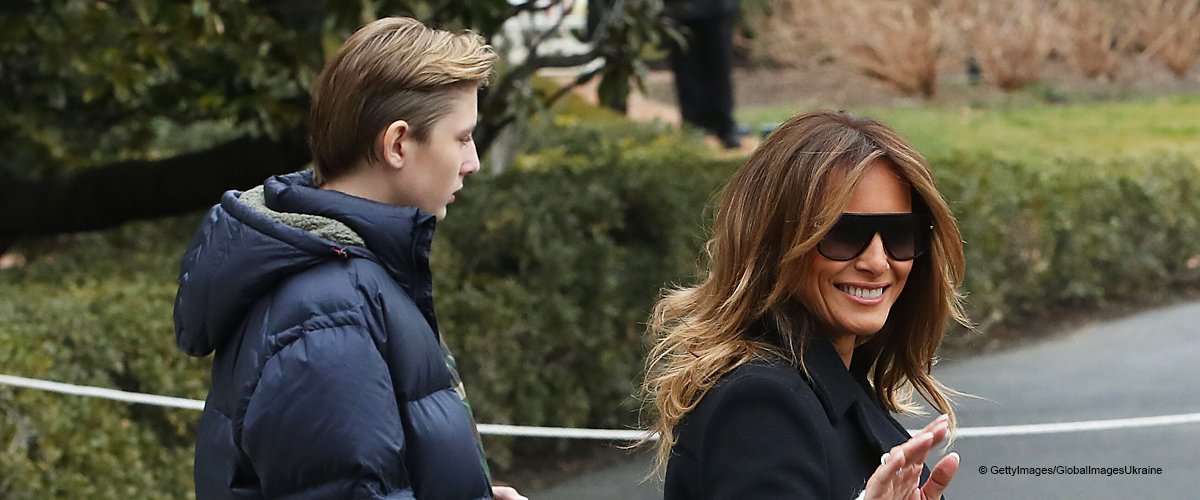 Melania Trump Chose Casual Bright Pants and Stylish Sneakers in a Rare Appearance with Son Barron
Melania Trump, 48, is not all about heels and dresses--the First Lady was spotted wearing casual-chic outfit during her latest outing.
The First Lady was photographed along with her husband Donald Trump and Son Barron Trump as they left the White House in Washington for Alabama to visit storm-hit areas.
Melania looked comfortable in a pair of skinny jeans paired with a double-breasted peacoat. She ditched her heels to wear Adidas Superstar sneakers with burgundy-colored stripes which complemented her overall look.
She wore her hair loose in waves, adding to the casual vibe.
Son Barron was looking stylish alongside mom Melania in beige New Balance trainers and beige chinos paired with a puffed jacket for the journey.
Melania, along with husband Donald Trump, visited communities in eastern Alabama that were severely affected by recent tornadoes. The devastating incident left 23 people dead.
The First Lady chose to wear a more formal outfit while greeting the Czech Republic Prime Minister with a dark leather coat dress by Alexa Chung. As for footwear, she flaunted her brown suede Louboutin pumps with sleek pointed toe and sky-high stiletto heel.
After their visit to Alabama, a conspiracy theory that First Lady uses a "body double" resurfaced on Twitter with the hashtag #FakeMelania.
Those convinced of the baseless claims made by conspiracy theorists believe she uses a body double at public events.
"Guys that is not Melania," a user tweeted, claiming that her hair was "long and blondish" unlike seen in the recent pictures from Alabama.
Conspiracy theorists have based their claims that Melania has a body double on the fact that Trump once pointed out that Melania "happened to be" right there during a press conference.
Since October 2017, Melania's grainy pictures, often when she is wearing shades, alongside husband Donald Trump during their public appearance are the instances when such conspiracy theories are renewed.
Please fill in your e-mail so we can share with you our top stories!