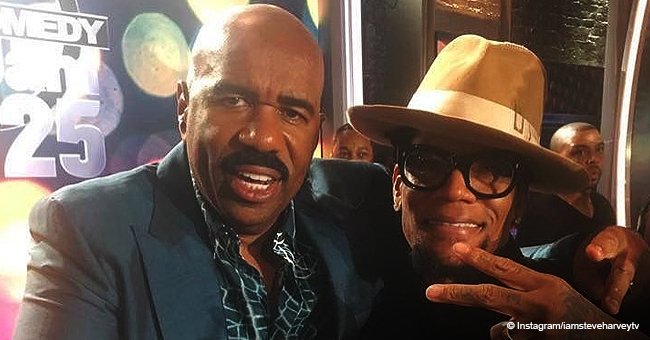 Steve Harvey's Recent Gesture Has Fans Hoping He & D.L. Hughley Are Friends Again
Steve Harvey and D.L Hughley's friendship was hanging by a thread a few years ago, but Harvey's recent gesture on Instagram seems to point out to a reconciliation between the pair, and fans are glad about it.
D.L Hughley recently celebrated his 55th birthday, and among all the congratulatory messages he got, one was from his longtime friend, Steve Harvey.
The talk show host took to Instagram to share a pic alongside Hughley taken three years ago at the Def Comedy Jam 25.
In the pic, Steve is wearing his characteristic suit, while D.L rocked a black shirt and his signature hat. Both men made peace signs to the camera and smiled brightly, showing off their friendship.
"Happy Birthday to my man @realdlhughley many more KING, you doing it well," Harvey captioned the pic.
Fans were excited about the public display of affection and filled Harvey's comment section celebrating the fact that both Kings of Comedy stars are still in a good place with each other.
"Glad they put their differences aside and got back to being friends," wrote one user.
Another added, "They're old friends for many years. It's it possible to forgive and forget for the love of the friendship dang." And a third one chimed in to say:
"It does my heart good to see you two together again."
Hughley also replied to the post, writing "Much love between #kings."

D.L Hughley's comment on Harvey's congratulatory post. | Source: Instagram/iamsteveharveytv
A ROUGH PATCH FOR THE KINGS
Harvey and Hughley had an alleged fall out after Steve's infamous meeting with President Donald Trump in 2017.
Back then, Harvey faced backlash for agreeing to meet with Trump, receiving critics from some of his close friends, including rapper T.I and Hughley, who both thought Trump was just using Harvey as a pawn to give the black community the idea he cared about them.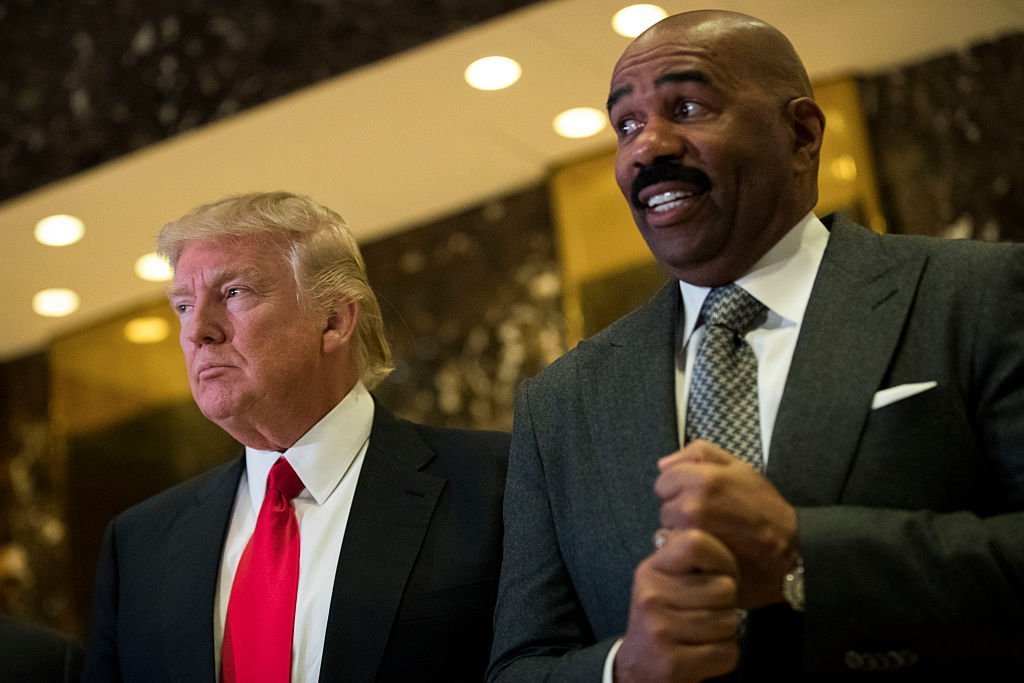 Steve Harvey speak to reporters after their meeting at Trump Tower, January 13, 2017. | Photo: GettyImages/Global Images of Ukraine
"It amazes me that to convince black people that Donald Trump cares about them; he takes pictures with celebrities. If Donald Trump cared about Black people, he wouldn't have denigrated the president with those claims of birtherism," Hughley said on a Facebook Live at the time.
Although he didn't directly mention Harvey, Hughley criticized the fact that Trump met with a comedian and a rappers—Kanye West—to talk about the concerns of the community.
"You know why you have a comedian, a rapper and a football player to talk about the concerns of the community? Because that's the positions you're used to seeing us in. You'd rather see us run the ball than run the country," he said.
HARVEY ASKS PEOPLE TO RESPECT TRUMP
Even though Harvey defended his position, stating that he accepted the meeting because both Obama's and Trump's transition teams asked him to do it, he got into even deeper water when he warned Snoop Dogg and Bow Wow to have some respect for the president, even if they don't agree with him.
Snoop pointed a gun to a man that resembled Trump on his music video, while Bow Wow took a disrespectful blow to Melania Trump.
Steve expressed his opinion on the incident, saying on his radio show:
"The problem with all this is that there is an office in this country called the 'president,' and you have to respect the office. You really do. Whether you want to or not. You have to respect the office. They got laws. Be smart with what you say. Y'all got to be smart now."
HUGHLEY AGREES TO DISAGREE
Catching up with TMZ at LAX, Hughley was asked what he thought of Harvey's pledge to respect the president. The comedian stated that, although he loved Steve, he had to disagree.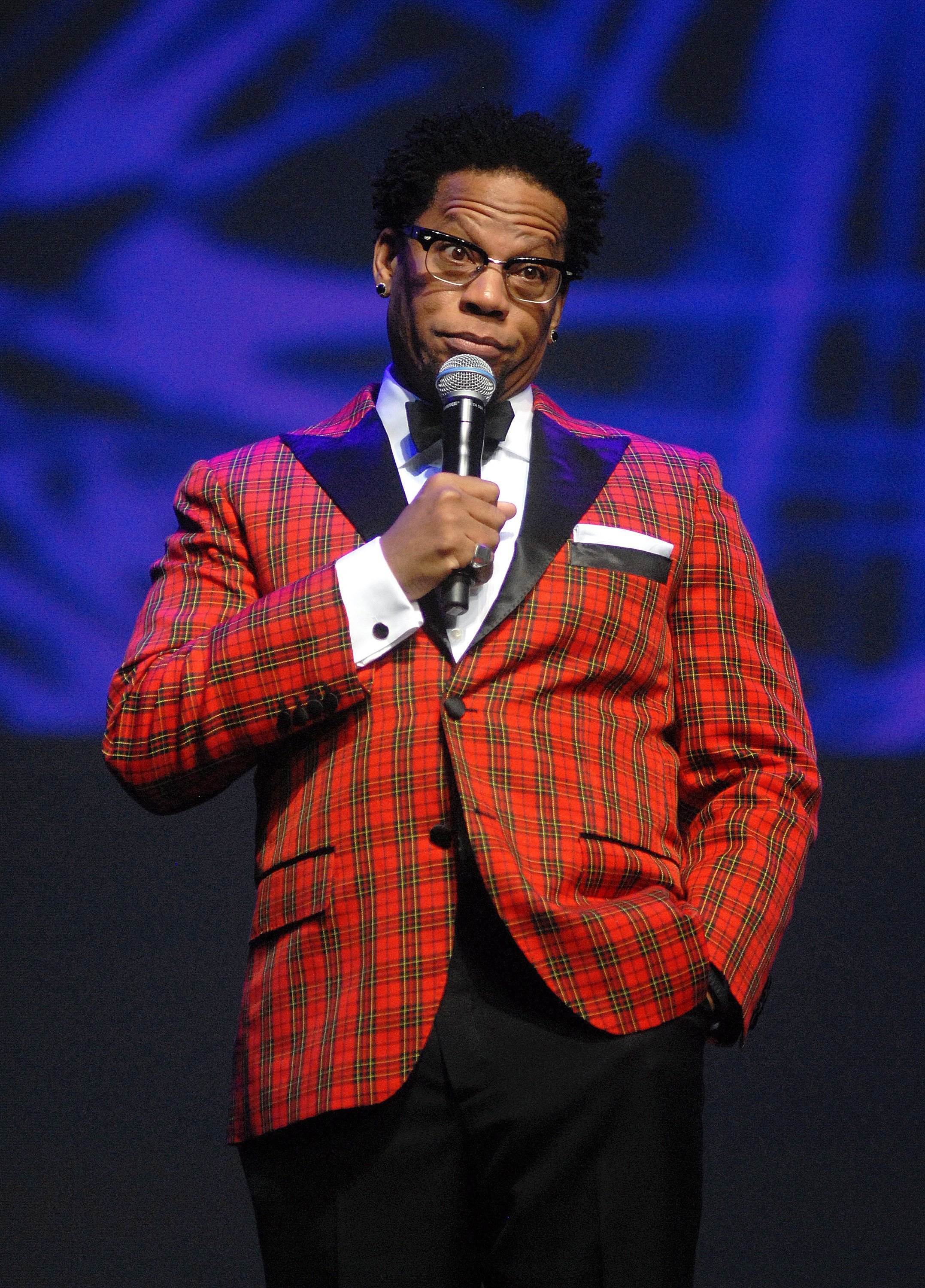 D.L. Hughley performs at MotorCity Casino's Sound Board Theater on January 23, 2014. | Photo: GettyImages/Global Images of Ukraine
For Hughley, only people who give respect can get it in return. And considering the blatant disrespect, Trump has shown to many people in the black community; he doesn't get to ask for respect.
The comedian recently took another jab at the President, comparing him and Jussie Smollett for using bigotry and lies to their own benefit.
The "Empire" actor has been indicted with 16 counts for lying to police and creating a false report about an alleged homophobic and racist attack last month.
"When you use hatred and bigotry and lying for your own selfish end, and you are a young gay black kid, you get indicted. If you do it when you're an old white guy, you become president," Hughley said on CNN while discussing Smollet's situation, making an obvious comparison to Trump.
SETTING THE RECORD STRAIGHT
Meanwhile, Harvey made sure to distance from Trump, making it clear to his followers that just because he met with the man once, doesn't mean he supports his government.
"Stop looking at my Instagram page thinking that I vote for Donald Trump," he said on "The Steve Harvey Morning Show" last October. And added:
"Y'all got me twisted. Now, anybody that really knows me and listens to the show knows good and hell well, I'm not a Trump supporter. That was a meeting. A damn meeting. Man, I'm trying to get somebody up in there, man, where we can make a difference."
Now, it is clear that Harvey and Hughley have managed to maintain their friendship despite their differences, and fans' couldn't be happier about it.
Please fill in your e-mail so we can share with you our top stories!