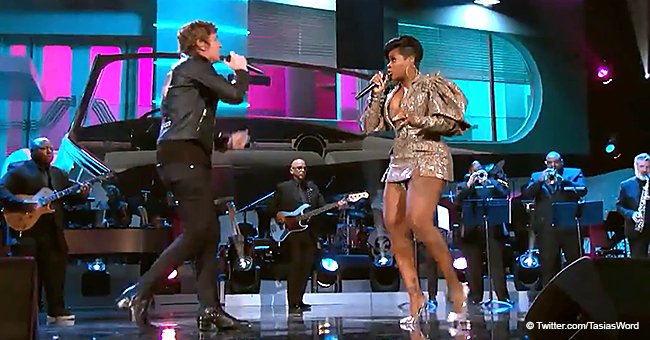 Fantasia & Rob Thomas Perform Lively Duet of Aretha Franklin's 'I Knew You Were Waiting (For Me)'
Fantasia Barrino teamed up with Rob Thomas to deliver an earth-shattering performance of "I Knew You Were Waiting (For Me)" in honor of Aretha Franklin at the "Aretha! A Grammy Celebration for the Queen of Soul" event in Los Angeles.
Barrino and Thomas were only two of many artists that went on stage to perform one song or the other in honor of the Queen of Soul, and they did justice to the 1987 hit originally sang by Franklin and another music legend, the late George Michael.
PERFECT MELODY
Barrino is a soul singer while Thomas is the lead singer of alternative rock band "Matchbox Twenty," but the two couldn't have been more in-sync with their lively rendition, as they brought over 5,000 spectators to their feet and had them clapping along.
Thomas dressed for the gig in an all-black ensemble featuring a leather jacket and skinny jeans, while Barrino chose leopard-skin latex mini dress with dramatic sleeves and towering heels.
RAVE REVIEWS ON SOCIAL MEDIA
The "American Idol" winner shared a clip from the performance on social media and Twitter users readily agreed that it was a performance Franklin and Michael would have been proud of.
"Two iconic, unforgettable artists who's voices live on," wrote one fan about Franklin and Michael. "I love this duet, and I'm sure they would be proud! I can't wait to watch the whole thing!"
"I love me some George Michaels, loved that talent! This was GREAT. Aretha & George were perfect together for sure!" chimed in another.
A third person said:
"Just watched you two. Wonderful performance!"
A TRIBUTE FIT FOR THE QUEEN
"Aretha! A Grammy Celebration for the Queen of Soul" was taped back in January but aired March 10 on CBS. The tribute event was conceived by Franklin's longtime collaborator Clive Davis, who is also the chief creative officer for Sony Music. According to Detroit Free Press, it was initially slated to take place with Franklin in attendance, but after her demise in August, became a posthumous affair.
Other vocal powerhouses that brought the house down with various "Aretha Franklin" hits include Jennifer Hudson, John Legend, Celine Dion, Yolanda Adams, SZA, Alicia Keys, Kelly Clarkson, Patti LaBelle, and even the younger generation like Chloe x Halle and H.E.R.
OTHER PERFORMANCES BY FANTASIA BARRINO
Hosted by renowned filmmaker Tyler Perry, the show closed with a breathtaking performance of "(You Make Me Feel Like) A Natural Woman" by Barrino, Andra Day, Alessia Cara and Brandi Carlile.
The "I Believe" singer earlier held audiences spellbound when she performed the song at another Aretha Franklin tribute last month at the Grammys, alongside Yolanda Adams and Andra Day. Last August, Barrino also made headlines for her soulful, barefoot rendition of "Precious Lord" during Franklin's funeral service in Detroit.
BARRINO'S RELATIONSHIP WITH FRANKLIN
Barrino shared a special bond with Franklin, whom she once described as her "career mentor." Reacting to news of the legendary singer's August 16 death, Barrino tweeted:
"This woman played a BIG part in my life. She played a genuine role in my life similar to how my Grandmother was very dear to me. I'll never forget the talks we shared together. Auntie, kill the choir up there in Heaven & know that your Music will last forever."
Please fill in your e-mail so we can share with you our top stories!