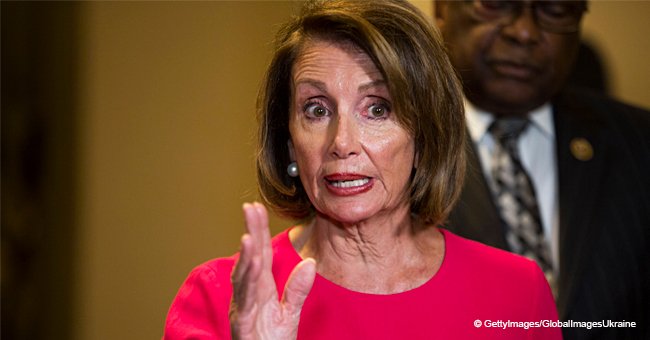 Nancy Pelosi Unexpectedly Comes out against Impeaching Trump: 'He's Just Not Worth It'

Speaker of the House Nancy Pelosi is surprisingly against the impeachment of President Donald Trump because it would be too "divisive" for the country.
Pelosi sat down for an interview with the Washington Post on Monday. Though she cemented her opinion that Trump is unfit as President with reasons to back it, she said he shouldn't be impeached.
The 78-year-old was fully aware that people might be shocked about her lack of desire to impeach Trump. She's been against so many of the president's decisions in the past.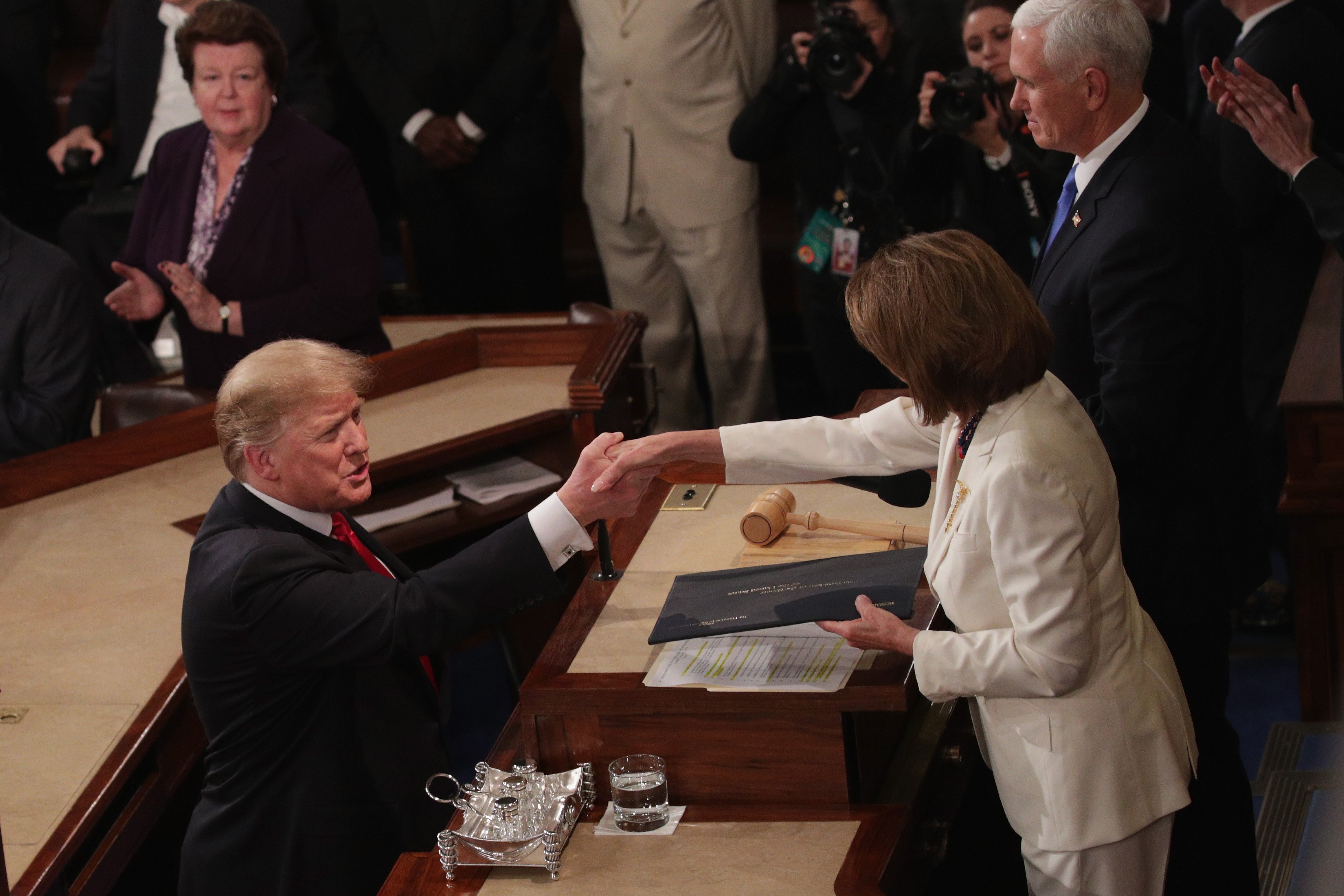 Nancy Pelosi greeting President Donald Trump at the State of the Union in February 2019 | Photo: Getty Images
Pelosi first admitted that some good has come out of Trump's administration. She said, "He's been a great organizer for Democrats, a great fundraiser for Democrats and a great mobilizer at the grass-roots level for Democrats. And I think that's good for America."
When the interviewer referenced the increased calls to impeach Trump, Pelosi went on to explain why she is against it.
She began:
"I'm not for impeachment. This is news. I'm going to give you some news right now because I haven't said this to any press person before."
She continued:
"But since you asked, and I've been thinking about this: Impeachment is so divisive to the country that unless there's something so compelling and overwhelming and bipartisan, I don't think we should go down that path, because it divides the country. And he's just not worth it."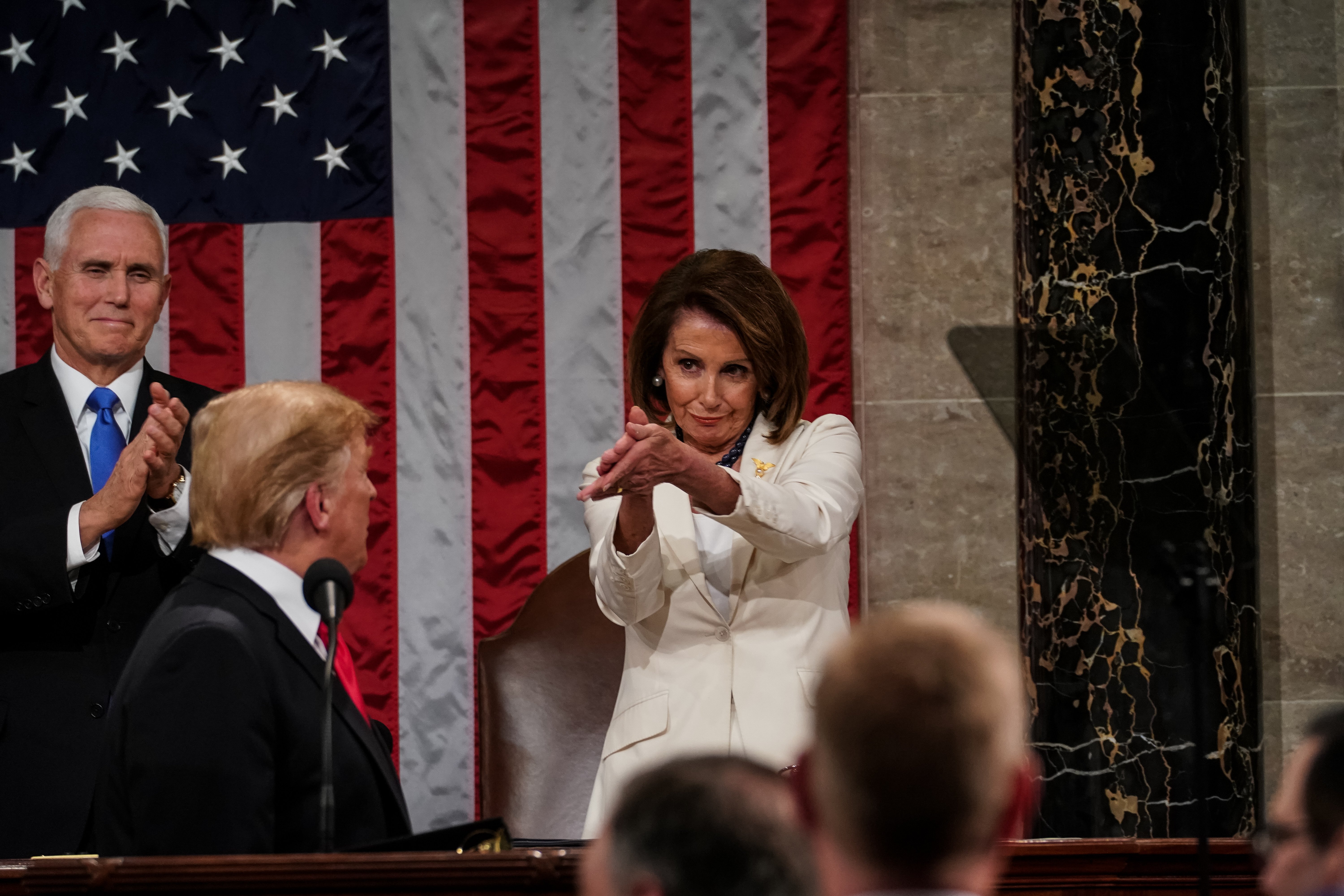 President Donald Trump giving his State of the Union Speech with Nancy Pelosi applauding him in February 2019 | Photo: Getty Images
Pelosi did not seem to see the country's current situation as severe as one would expect. She said she doesn't share the concern that certain institutions are currently in peril.
Instead, Pelosi said, we should focus on ensuring that Trump does not remain in office for two terms. That's her goal for 2020 along with keeping Democrats in control of the house.
She referred to the impeachment of Bill Clinton in the 90s. According to the speaker, "there's no question that that was horrible for the country." She agreed that the country is in a very divisive state right now because of Trump.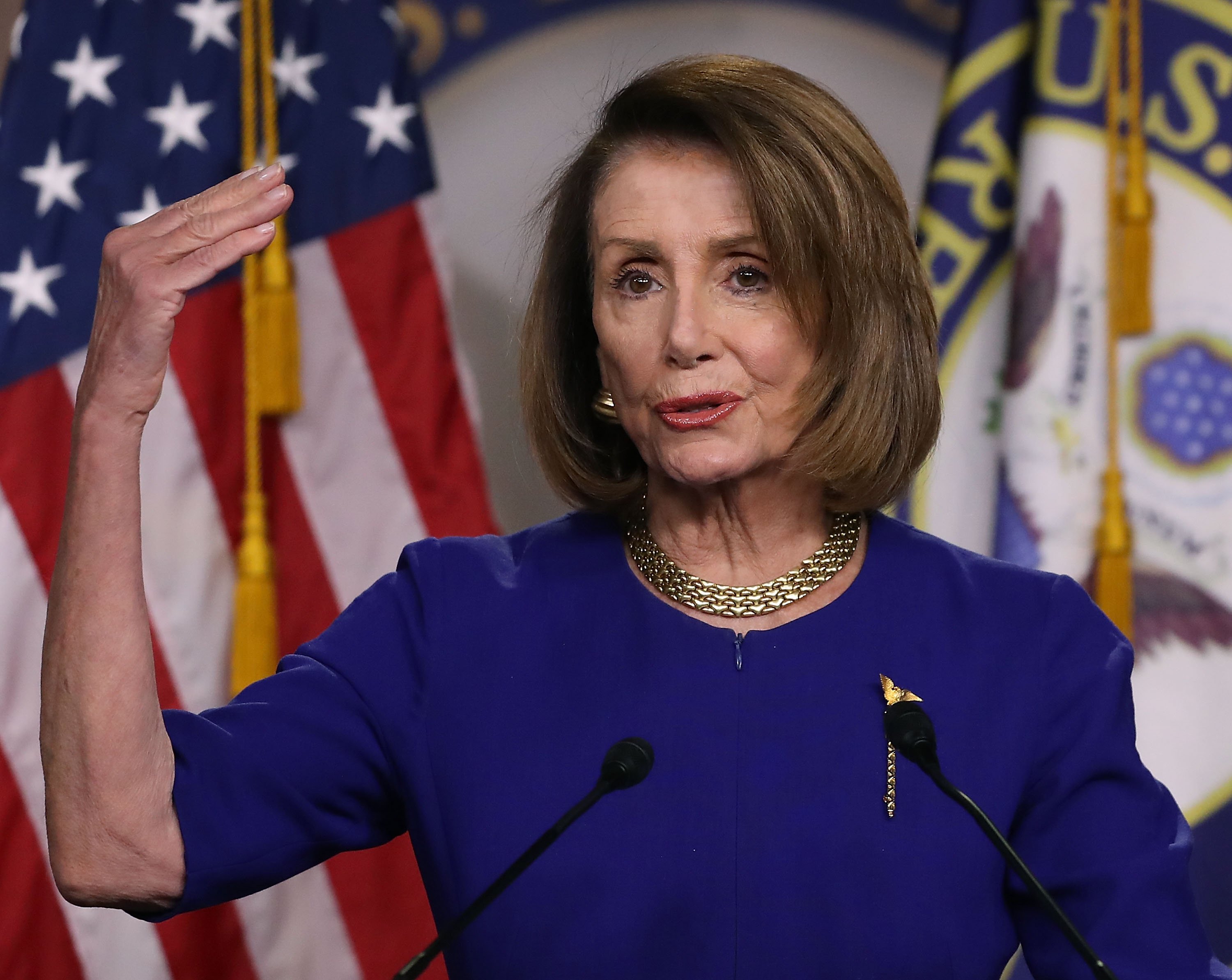 Speaker of the House Nancy Pelosi giving a speech | Photo: Getty Images
She further expressed the widely-shared belief that Trump is unfit to be president. After trying to clarify whether they meant ethically, intellectually, or politically, Pelosi said all were applicable.
She added:
"And that's up to us to make the contrast to show that this president — while he may be appealing to you on your insecurity and therefore your xenophobia, whether it's globalization or immigrants — is fighting clean air for your children to breathe, clean water for them to drink, food safety, every good thing that we should be doing that people can't do for themselves."
Pelosi didn't want to spend too much time talking about Trump though. She said it was too negative and something she tries to avoid most times. It's not even about Trump, she said. It's about things like lowering healthcare, increasing wages, and reducing corruption.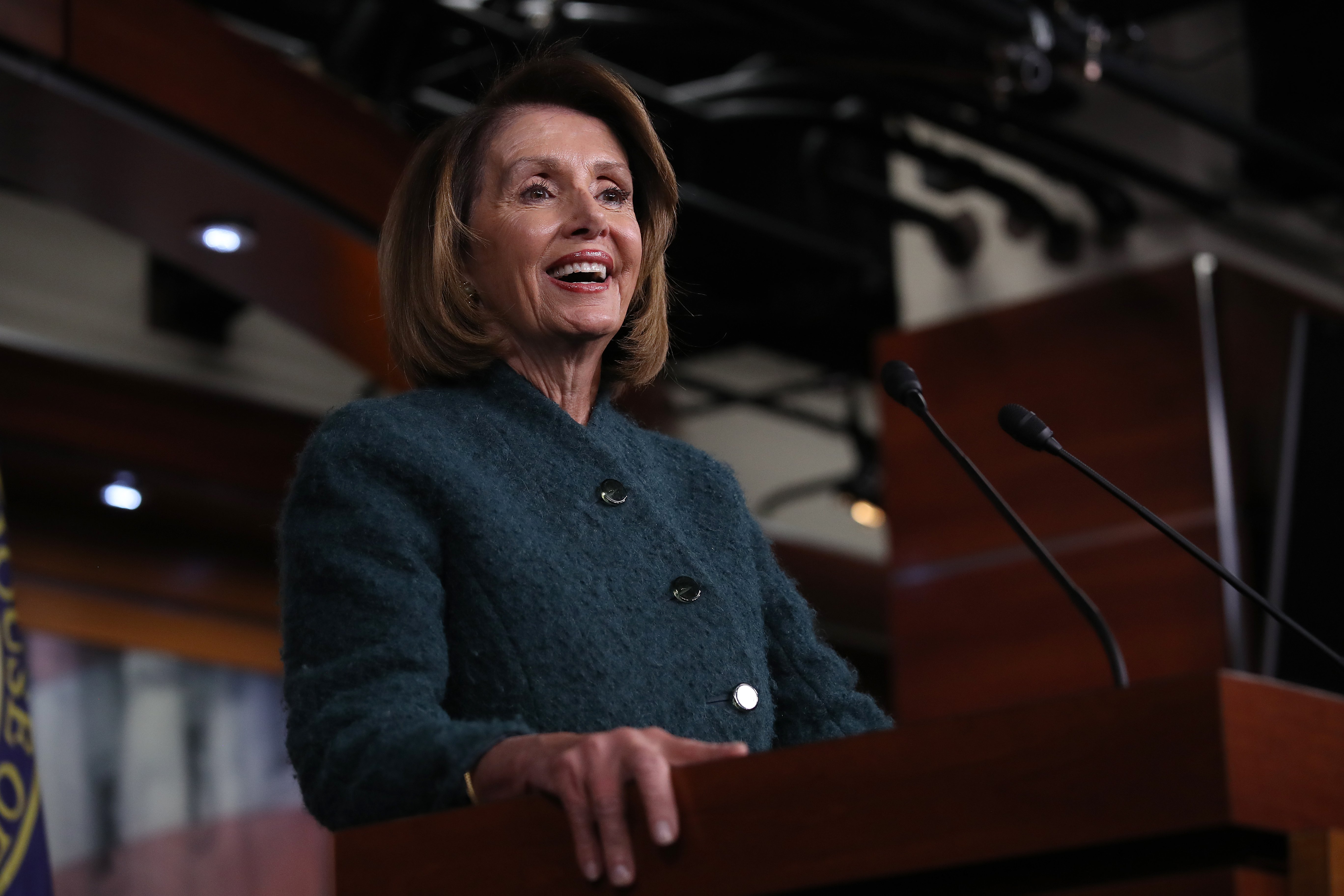 Speaker of the House Nancy Pelosi giving a speech | Photo: Getty Images
Regarding the latter, Democratic chairs recently began increasing their investigation into Trump's campaign funding for his 2016 presidential run. Robert Mueller, the former presidential advisor, is heading the move.
Representatives Kevin McCarthy and Gerry Connelly of Virginia commended Pelosi for her remarks on Trump's impeachment. Connelly said she is "lowering expectations" and reminding us that "impeachment is the last resort in the Constitution, not the first resort."
Later, Pelosi again reiterated her stance:
"I just don't believe in it. They wanted me to impeach President Bush for the Iraq War. I didn't believe in it then I don't believe in it now. It divides the country. Unless there is some conclusive evidence that takes us to that place."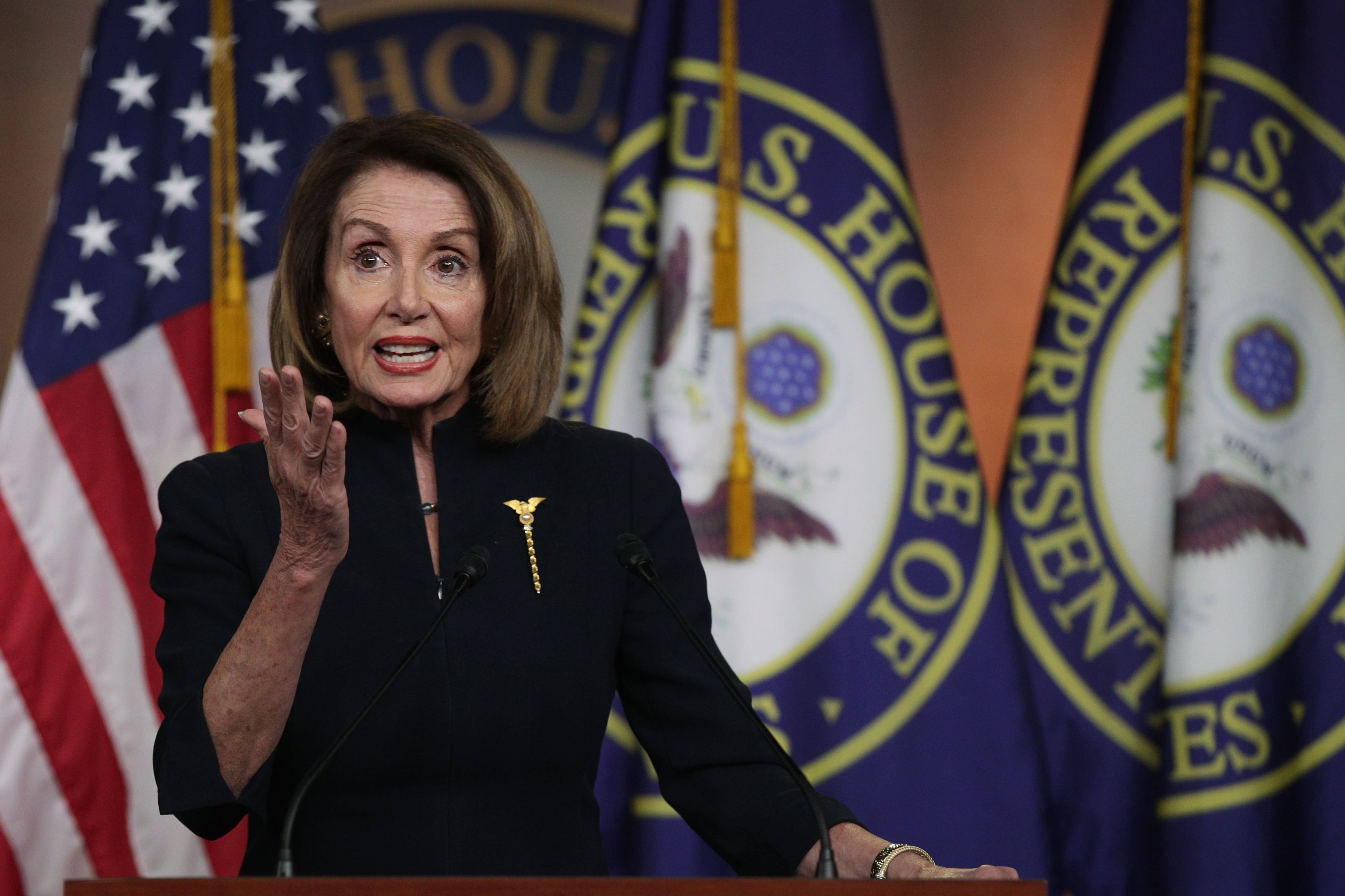 Speaker of the House Nancy Pelosi giving a speech | Photo: Getty Images
Pelosi wants to stick to the Democratic goals mentioned earlier. She won't take her "eye off that ball." She was clear on the matter, concluding: "That's why I say, impeachment, he's not worth it."
Of course, Pelosi is also against the border wall that Trump is still determined to build and the president just increased his budget proposal for it. Concurrently, he called for several budgets cuts for "health care and economic support programs."
Right away, Pelosi labeled the plan "cruel and shortsighted... a roadmap to a sicker, weaker America." The move would push the country's trade deficit of over $1 trillion. Thereafter, it would take at least 15 years to bring it back into balance, way beyond the typical decade-long projection.
Mid-February, Pelosi also called out Trump for his decision to declare a state of emergency in hopes of bypassing Congress to get funding for the border wall along the southern Mexico border.
Pelosi said his actions "clearly violate the Congress' exclusive power of the purse, which our Founders enshrined in the Constitution." She vowed to fight the executive order "using every remedy available."
Please fill in your e-mail so we can share with you our top stories!