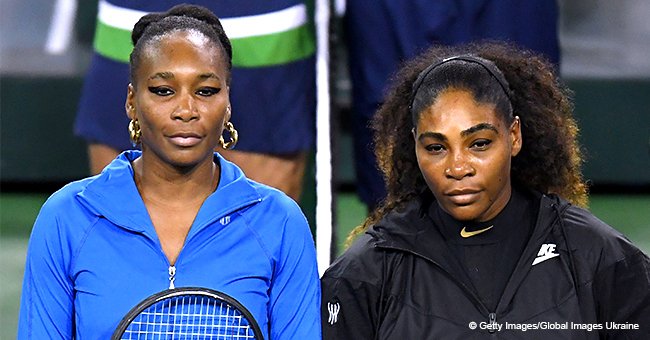 Serena & Venus Williams' Disabled Dad Reportedly Swindled out of Florida Home by Much Younger Wife
New court papers reveal more details surrounding Serena and Venus Williams' father and the case he filed against his estranged wife after discovering he swindled her using forged signatures.
It was reported in June 2017 that Richard Williams, father and trainer of Serena and Venus Williams filed for divorce from his wife, Lakeisha Williams after he discovered she forged his signature in a transfer of deed of his Florida home. He also said she stole his social security checks and even transferred ownership of their cars by forgery.
Richard, who can barely speak as a result of two strokes, has a 6-year-old son with Lakeisha who is young enough to be his daughter. She moved out of their home in 2016 and left their son in his care.
In November, the 77-year-old submitted documents proving Lakeisha's forged signatures in 2017 were far from his 2002 signatures. Further, he claimed she used the deed of their Palm Beach, Florida home to take out a series of loans from a man named David Simon.
A recent report by the Daily Mail reveals Simon was the owner of a truck that Lakeisha wanted to purchase. She approached him to buy the truck on loan using the deed of Richard's home as collateral.
Simon, a mortgage lender, revealed Lakeisha also borrowed money from him. She initially loaned $152,000 from him on February 14, 2018 which happened to be Richard's 75thbirthday. She borrowed another $22,000 in April and $105,000 in May. When she tried to take out a bigger loan in October, Simon declined due to insufficient collateral.
Simon also disclosed that payments for the interest of Lakeisha's loans became sporadic. Documents obtained from Palm Beach County Court revealed she started a truck business in Long Island, New York using the Volvo semi-tractor she purchased from him.
However, Simon discovered in June that the truck had been in an accident which incurred $30,000 in damages. He repossessed the car from Lakeisha after.
Meanwhile, Richard's battle continues in court. Deed notarizer Florence Henley in her testimony said she never saw Richard personally signing the document but simply saw an elderly man in a car who Lakeisha said signed it. Richard believes the man was an imposter hired by Lakeisha. He adds that common sense would deduce that she shouldn't have to drag him all the way to Fort Lauderdale to sign papers if he consented to it. He adds in his statement to the court,
"If the plaintiff had wanted to help Lakeisha Williams start a trucking business, why would he not simply take out a loan by himself on his property and buy her a truck?"
Richard's daughters have yet to speak out about the issue. Lakeisha claimed in June last year that Serena, through her lawyers evicted her from Richard's home which the tennis superstar owns.
Serena has been vocal about her support for her father especially after he begged off from walking her down the aisle when she married Reddit founder Alexis Ohanian in November 2017. Richard texted his daughter an hour before the ceremony and sent his regrets revealing he couldn't do it because he wasn't himself anymore. He was referring to his post-stroke condition. Serena respected her father's wishes because she understood what he was going through.
Richard's life story will reportedly be featured in a film with Will Smith allegedly portraying him. There was controversy surrounding Will's casting with many thinking he wasn't black enough to play the part. It hasn't been confirmed if Will will be playing the part but he's reportedly producing the biopic under his Overbrook Entertainment banner alongside Tim and Trevor White's Star Thrower Entertainment.
Please fill in your e-mail so we can share with you our top stories!