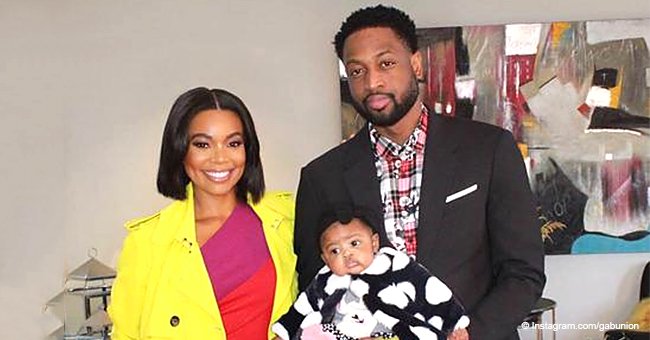 Gabrielle Union & Dwyane Wade Trademark 'Kaavia James' & 'Shady Baby' for Future Business Ventures
Dwyane Wade is nearing his NBA retirement, ready to be a full-time dad to his children. However, it seems he and his wife Gabrielle Union have a backup plan to earn money in place, even trademarking their daughter's name in case they need it for a brand name.
According to The Blast, Miami Heat legend and Gabrielle Union are about to launch a bunch of products including clothing, hair care products, and jewelry. They sent in trademark applications for "Kaavia James" and "Shady Baby," one for their clothing line and another for a loan out company they recently started under their daughter's name. The loan out company wrote Gabrielle as its CEO, while Dwyane works as its CFO.
Aside from their loan out company, it seems they are also interested in using their daughter's name on diaper bags and baby bibs. Meanwhile, Shady Baby is a nickname that Union gave her little bundle of joy, describing her habit of "throwing shade" on her own Instagram account, which already has a total of 535,000 followers.
Gabrielle Union and Dwyane Wade are over the moon now that they have a daughter together, after years of having difficulty conceiving.
The nine-month pregnancy journey is nervewracking for any expectant mother, but Union has been waiting for years to have her first child that she thought it was a cruel joke. The first-time mother welcomed her first daughter with Dwyane Wade through a surrogate early this month.
She opened up about such a precious moment she shared with her husband when they decided to let go of all the fears they had about their daughter being delivered by someone else, and embrace that their daughter was going to come home to them safely.
"On this night we decided to embrace faith that our lil miracle @kaaviajames would make it into our arms. We held onto each other in joy and peace and allowed ourselves to look forward to her arrival."
Now that everything has fallen perfectly in place in the Wade residence, they are now ready to step it up a notch and start their own ventures thanks to all the inspiration given to them by little Kaavia.
Please fill in your e-mail so we can share with you our top stories!