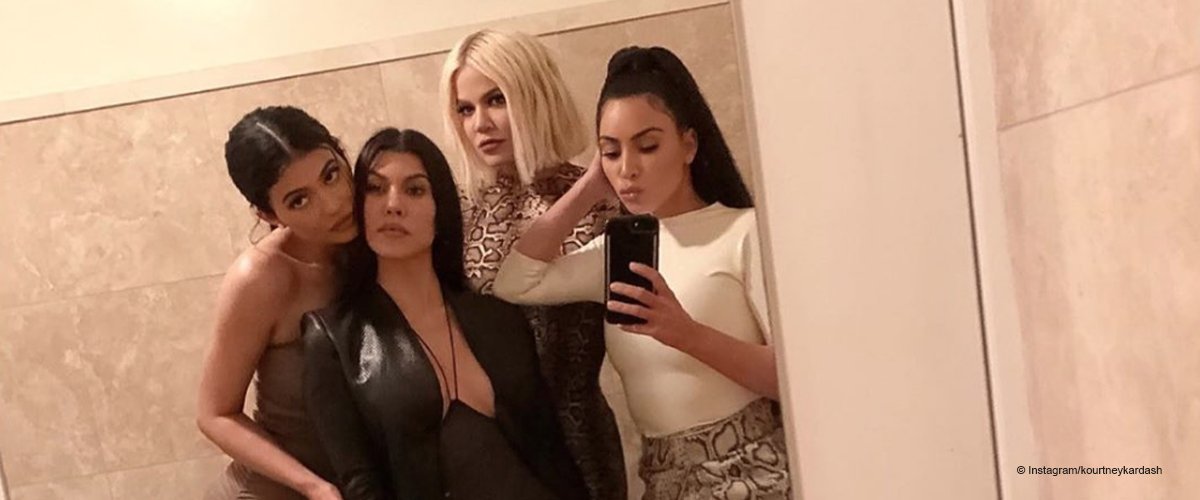 Kardashian Sisters Mocked by Eagle-Eyed Fans for Posting 'Dirty' Bathroom Selfie

The Kardashian sisters recently had a fun date night, and in true form, netizens had much to say about their updates on social media.
On Tuesday night Khloé Kardashian, Kim Kardashian, Kourtney Kardashian, and Kylie Jenner got all dressed up for a night out.
Kylie wore a strapless, tight-fitting vintage Norma Kamalithis dress, while Kourtney opted for a long, dark brown dress and a black jacket. Kim went for a simple look with a white long sleeved top and a high-waisted snakeskin-print skirt, Khloé also went with an animal print ensemble in a long leopard-print dress.
While at the Santa Monica restaurant Giorgio Baldi, the sisters took some selfies to share from their night out. Kylie showed off her curves and tight-fitting dress that pictured her squatting in front of the mirror:
39-year-old Kourtney shared a photo of the four sisters posing together in the restaurant bathroom, but some eagle-eyed fans saw much more than just a selfie and couldn't help but comment.
"Beautiful women in a dirty bathroom," one wrote on Instagram, while another added, "Why is the floor so dirty? Lol y'all in a gas station bathroom?!"
Some followers didn't think that a public bathroom was a place for selfies as another said, "Dirty bathroom girls... Classy... Lol."
At the beginning of the year, Kim wanted to get into shape and began with the Shake It Baby program from @flattummyco. On day nine Kim posted a picture with an update to share with fans.
Wearing only white underwear while holding a bottle of milk and taking a sip from her meal replacement shake while standing in a kitchen, fans yet again got stuck on the surroundings instead of what Kim was trying to depict.
Comments like, "You probably got foot fungus just from standing in that kitchen," showed how disgusted fans were with the location of the shot as another fan added, "If it is the kitchen your house! It's dirty and ugly."
One can never please everyone, and with almost 4 million likes, the post surely did a lot in terms of promotion of the brand. And besides, the Kardashians lives their lives as they see fit, regardless of the constant backlash they receive for their actions.
At the Hollywood Beauty Awards earlier this year, Kim arrived in a dress that still has everyone talking. Besides the fact that the dress begged for a wardrobe malfunction, she showed just how far she is willing to go in getting all dressed up, in a manner of speaking.
Please fill in your e-mail so we can share with you our top stories!