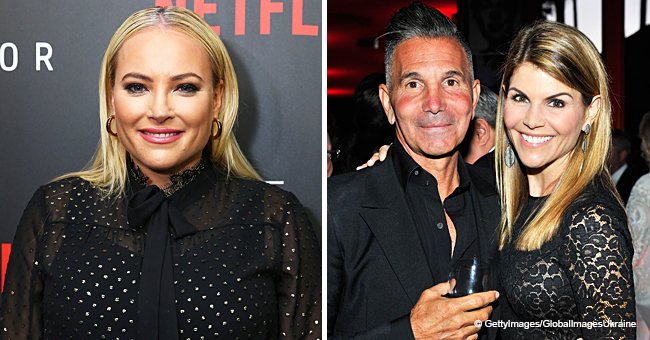 Meghan McCain Blasts Lori Loughlin's Husband Following the Couple's Arrest
After Lori Loughlin's husband Mossimo Giannulli was released on bail amid a massive college scandal, Meghan Mccain blasted the designer during her show "The View".
"To Aunt Becky's husband who talked s**t about ASU - The @McCainInstitute for International Leadership does incredible work w/ students in cooperation with ASU and I guarantee those students involved will go on to do great things in the world and didn't have to lie to get there...' the talk show host tweeted.
She further shared she was proud to have her family's name to ASU and it is an incredible college.
"It's an incredible, incredible college and Aunt Becky's husband, whoever the hell you are, I had no idea who you were until yesterday, sorry, your kid probably wouldn't have been good enough to get into ASU," added Mccain, who got a degree in art history at ASU.
Her clap back was directed at a response to Giannulli allegedly wrote to William Rick Singer.
'I'd like to maybe sit with you after your session with the girls as I have some concerns and want to fully understand the game plan and make sure we have a roadmap for success as it relates to (our daughter) and getting her into a school other than ASU!'
Actress Loughlin turned herself in on Wednesday after she was charged with conspiracy to mail fraud.
Giannuli, who used their house on collateral for his $1million bond on Tuesday, will face five years behind bars along with Loughlin if convicted of felony conspiracy to commit mail fraud.
The duo's daughter Olivia Jade was reportedly on a USC Official's Yacht amid the college admissions bribery scandal.
While Loughlin was taking a flight from Canada to LA to surrender on Tuesday evening, Jade was in the Bahamas with billionaire Rick Caruso's daughter Gianna on his yacht.
"My daughter and a group of students left for spring break prior to the government's announcement yesterday," Rick, 60, told the TMZ. "Once we became aware of the investigation, the young woman decided it would be in her best interests to return home."
Please fill in your e-mail so we can share with you our top stories!