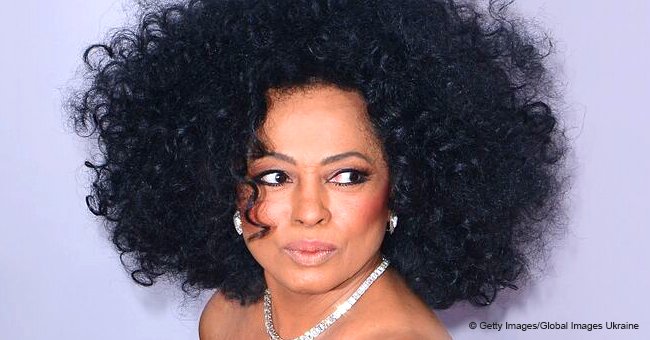 Diana Ross Left Irate as Fan Repeatedly Flipped the Bird at Her during Surprise Concert
Diana Ross was provoked to anger by a fan that repeatedly flipped the bird at her during a surprise concert in New York City on Monday night.
The music legend thrilled shocked fans with one hit after another during the grand opening of Edition Hotel in Times Square, reports Page Six. Things turned ugly while Ross, 74, was performing "Upside Down" on stage at the hotel's Paradise Club.
An apparently-tipsy male fan made his way to the front where he began to poke at her. After a second attempt, Ross annoyingly swiped her hand at him and proceeded to scold him with a warning finger.
The star-studded opening night also saw Ross performing with another music legend
Instead of taking the hint, the intruder repeatedly flipped the bird at Ross and was not deterred by the fact that she wasn't even reacting to the rude gesture.
The outlet also reports that the man attempted to grab Ross's tulle boa at some point, prompting security to escort him out of the venue.
To the Motown legend's credit, not once did she miss a step in her performance because of the disrespectful fan's antics. You can watch footage of the incident captured by another concert-goer here.
So good was her performance that the hotel owner, Ian Schrager, couldn't help raving about Ross to Page Six. Schrager recalled that it was Ross who played on the final night of the famed Studio 54, a club he established in collaboration with the Steve Rubell.
"Everything seems to have come full circle. Then we jump forward all these years, and she does the first night . . . Too bad Steve wasn't around to enjoy it."
The star-studded opening night also saw Ross performing with another music legend, Nile Rodgers. Rodgers and his band "Chic," according to Lincoln Journal Star, wrote and produced Ross's most successful album to date, "Diana" in 1980. That album included top hits like "Upside Down" and "I'm Coming Out."
Rodgers shared a clip of the pair playing "I'm Coming Out" together on stage and wrote:
"I got to play two of my biggest songs tonight w @dianaross in my home town."
The former "Supremes" vocal lead proved to fans last month that she's still as spectacular as ever when she took to the Grammys stage for a breathtaking performance in honor of her birthday.
Ross will turn 75 in a few days (March 26) but chose to celebrate early at the Grammys, and for the real celebration, the living legend has a lot planned as part of a lineup of events tagged the "Diamond Diana Celebration."
Please fill in your e-mail so we can share with you our top stories!