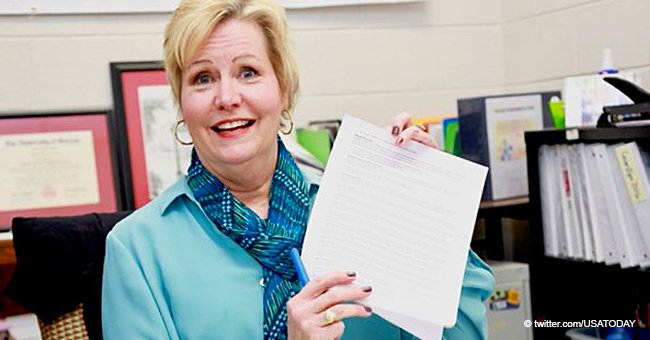 59-Year-Old Teacher from Atlanta Won $10,000 by Reading the Fine Print on Her Insurance Policy
Georgia schoolteacher, Donelan Andrews wins 10,000 dollars for carefully reading a fine print on her insurance policy. The benefits of reading were highlighted when Andrews, 59, read a beautiful print on her insurance policy while booking a travel insurance package.
Tin Leg − a subsidiary of Squaremouth − a Florida based insurance company put the reading abilities of Squaremouth customers to test with a contest in the last page of their insurance policy. The trick was that the first person to discover the game would win a grand prize of $10,000.
Donelan, who was in the process of planning for a trip with some of her friends decided to buy a travel insurance package if she is unable to go for the journey as initially scheduled with her friends.
Surprisingly, the 59-year-old's decision was in good time. Twenty-three hours and 73 customers into the contest, Donelan stumbled upon the big offer. The lucky woman did what the other 73 customers did not do; she read the fine print on the policy until the very end.
When asked how she managed to pull the reading off, the schoolteacher revealed that she is used to viewing every part of her contracts.
Donelan added that just like Squaremouth rewards customers who read, she rewards her students for doing the same by using a similar trick. Andrews adds the words:
"If you're reading this, skip the next question," to a part of their question paper.
Students who cared to read were relieved of the stress of that question. Not only Andrews got rewarded, the two schools where she teaches also benefited from her wins. Squaremouth, because of the 59-year-old donated a sum of $5,000 for new books to Upson-Lee High School and Lama County High School in Western Georgia.
To further improve good reading culture, Squaremouth also gave $10,000 to "Reading is Fundamental" − a charity in DC for children's literacy.
Talking about Andrews' win, the insurance company confessed that the contest was put in the policy to make people read their contracts better. With Donelan's big win, the company hopes that people will begin to pay more attention to insurance policies.
The reading winner intends to spend her winnings on a great holiday with her husband in Scotland, in honor of their 35th wedding anniversary. What a great way to celebrate!
Please fill in your e-mail so we can share with you our top stories!