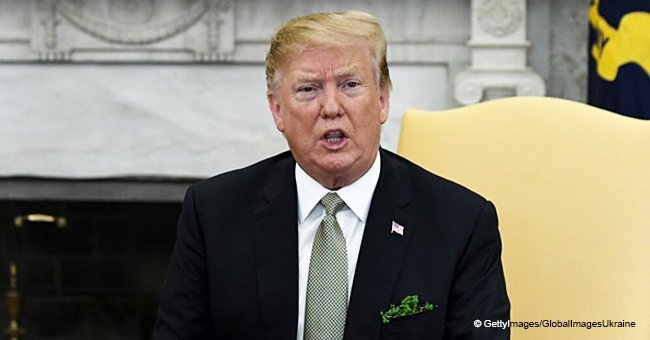 Trump Accuses 'Deranged' Media of Propelling 'Conspiracy Theories' about Melania Using Doubles
President Trump took to Twitter again to blast members of the media for photoshopping pictures of First Lady Melania Trump to fuel rumors that she uses a double to attend some engagements on her behalf.
On a recent trip that the President and First Lady took to Alabama with their son Barron, some media outlets commented that the photos of Melania looked a little different reigniting chatter from 2017 that she uses a body double to attend events when she is either uninterested in or unavailable.
Trump accused the media of stirring controversy by altering images of his wife to create some proof for their "deranged" theories.
It didn't help that hosts of "The View" discussed the issue after analyzing the First Lady's appearance during the First Family's survey visit in tornado-damaged Alabama. Joy Behar said,
"I wasn't going to go along with this but that one, in that picture, doesn't look like her. It's a different shaped face."
Her co-host Sunny Hostin added that she took the time to look through the images associated with the hashtag #FakeMelania saying,
"Melania is a very tall, statuesque woman and the one that we saw, the first one that we showed, she looks kind of short."
White House Director of Communications for Melania Trump posted her reaction to the internet buzz about the Melania stand-in and expressed disappointment in how "The View" hosts participated in rumor-mongering.
"@flotus & @potus traveled to Alabama to pay their respects & comfort victims of the tornado devastation. In typical fashion, @theview chooses to laugh in the face of tragedy. Shameful."
The First Couple has been under public scrutiny for how they conduct themselves in public. Some sources have disclosed that Donald and Melania "spend very little to no time together."
But the First Lady's good friend Stephanie Winston Wolkoff defended Melania saying,
"They are not a couple that holds hands just because; she is old-world European, and it's not who she is."
Please fill in your e-mail so we can share with you our top stories!