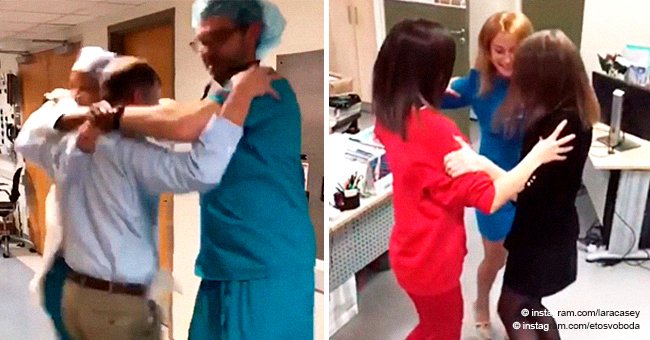 Triangle Dance Breaks the Internet as Thousands of People Try It
A new sensational dance has gripped the world at its core, and it is called the "Triangle Dance." With hilarious moves and great style, this dance is what most need to kick-start their day.
What is the Triangle Dance
Like the "Shiggy" dance challenge, this competition is the newest thing that's causing lots of frenzy on social media. Just like a triangle, this choreography requires three persons standing in a triangle formation with their hands touching each other by the shoulder.The fun dance then entails some jumping forward and backward, and also little sidestepping both to the right and left. Because it involves three people and there are lots of stepping, body coordination is essential else participants can easily bump into each other.
Another name for the "Triangle Dance" is the "Milkshake Challenge." This title was coined after TikTok user Matthew Jones shared a video with two of his friends dancing to the song, "Milkshake" by American recording artist, Kelis.
Who is dancing?
There are now over a thousand clips of various people on Instagram who have since joined in the trial. High school kids, college students and even lots of adults have gone ahead to participate in the craziness that this dance tends to bring.
The videos have varied from random classroom dancing to even medical practitioners jumping in scrubs at the hospital.
One thing that is common to all those who have shared videos with friends and families trying out the Triangle dance is that they all seemed to be genuinely having fun with it.
Challenges with the dance
Although these clips are not stopping anytime soon, some people find the dance quite hard to get. This challenge is mostly attributed to the need to have three people move at the same time. It can even be more difficult to coordinate if someone in the group isn't getting the moves.
But even with this, the "Triangle Challenge" is a very energetic dance and can be an excellent way to warm up in the morning before starting your work out session.
Please fill in your e-mail so we can share with you our top stories!