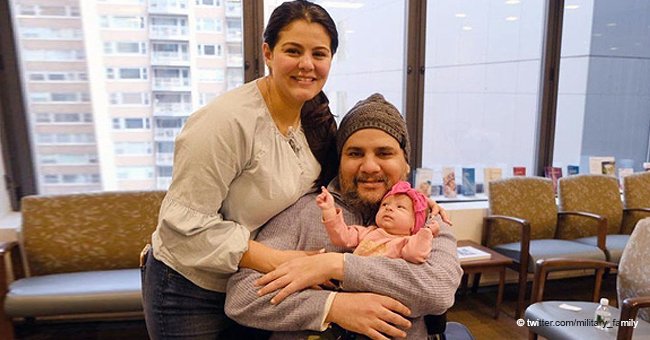 Paralyzed Iraq War Veteran Who Was Left Quadriplegic by a Sniper Bullet Welcomes a Baby Girl
A US Marine who was left quadriplegic after sustaining sniper wounds has welcomed a baby girl against the odds.
"I always knew I'd become a father," Visnu Gonzalez told "Good Morning America."
Gonzalez was left quadriplegic after suffering spinal cord injuries from sniper fire while he was serving in Iraq in 2004.
Six years after returning from combat, Gonzalez met his wife Sahily Machado while he was on a vacation in the Dominican Republic in 2010. The couple got married 3 years later.
Parenthood seemed impossible to the couple as both of them faced fertility issues. Gonzalez was told invitro fertilization or artificial insemination was the only way to have a baby.
The couple's agony came to an end when they fortuitously found Dr. Tomer Singer, the vice chair, OB/GYN at Lenox Hospital, Northwell Health in New York City.
Coincidentally, Dr. Singer himself was conceived through artificial insemination after his own father was shot in the Israeli military in the 1960s so he empathized deeply with the couple.
"I knew when he said his dad was in a wheelchair that he was the doctor," Gonzalez said.
Despite his condition, the couple believed they were destined to be parents and maintained their hope. Dr. Singer vividly recalls delivering the good news after almost three years of treatment.
"I remember her dropping the phone and crying," Singer said.
After a long wait, the couple welcomed their baby girl Lia Valentina in December 2018.
Gonzalez described the moment of Lia's birth saying it was "wonderful", especially since the couple was trying for so long.
"It's pure joy. I mean when you hold her, and, you know, you're a dad...you start your promises," shared Gonzalez.
The little bundle of joy has filled the couple's lives with immense happiness.
Please fill in your e-mail so we can share with you our top stories!