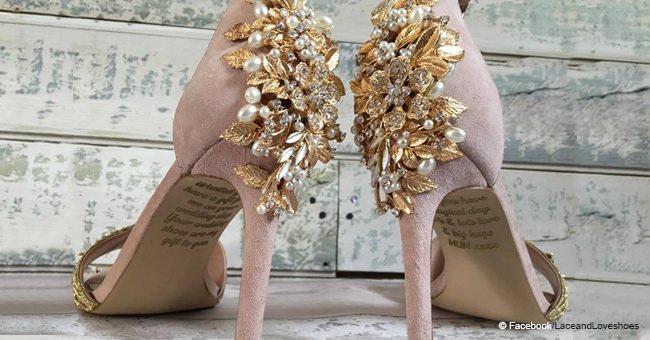 Emotional Story: Bride Finds Secret Message from Dying Mother on Wedding Shoes
Bride-to-be Emma received a priceless gift from her mother who passed away before the wedding, a pair of bespoke shoes that had a loving dedication printed on its soles.
Richard and Emma got engaged in 2016, but the bride's joy quickly turned to sorrow as she found out her mother was diagnosed with lung cancer, and it was incurable. A year later, her mother passed away but not before planning a little surprise for her daughter.
Emma had ordered a pair of bespoke bridal shoes from Lace and Love.
Knowing this, her mother placed a call to the shoe company to say that she wanted them to be a surprise wedding present and that she wished to have a message printed on the soles.
Having ordered it many months before, Emma was overwhelmed to find out that her mom prepaid for the pair of shoes, and as she pulled it out of the box she burst into tears seeing that there was a message printed in gold on each sole.
It read,
"Wanted you to have a gift from me on your wedding day. Your wedding shoes are my gift to you. Hope you have a magical day. Lots and lots of love and big hugs, MUM XXXX"
The bride articulated her feelings saying,
"I started to cry...I was just absolutely in bits. I couldn't breathe, I couldn't talk. It's been so hard planning a wedding without having her with me, and I have had lots of tears."
Her mother had been writing letters to the family after learning of her terminal illness. And Emma said her mother died before managing to make one letter for her.
"I didn't get a letter, she just ran out of time. So this is so special to me."
Shoe designer for Lace and Love, Amanda Weise shared the story and detailed the whole transaction.
"The shoes were a beautiful thing to be a part of. From designing them to match Emma's requirements to make sure I could get a message from her mum to add to the soles was a lot of pressure."
She continued,
"Hopefully it will give her a bit of comfort on the day. It will be like walking down the aisle with her mum."
Please fill in your e-mail so we can share with you our top stories!