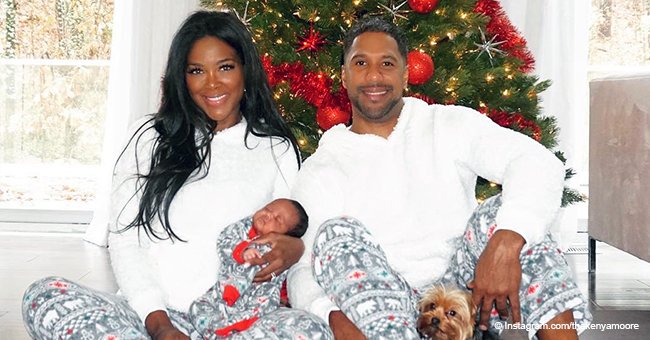 Kenya Moore's Husband Teaches Their Daughter Brooklyn How to Swim in an Adorable Video
Kenya Moore just shared the cutest clip of her daughter Brooklyn learning how to swim with her husband, Marc Daly. The little girl beamed at her father as she made an effort to keep one part of body dry throughout the session.
Kenya Moore's daughter is only four months old but she's already learning the basics of swimming. The celebrity mom shared a clip of her first day in swim school and it was quite adorable.
Brooklyn's introductory class to the wonders of the water involved a bonding session with her father, Marc Daly. In the clip Kenya shared, the tiny tot floats in the pool as her father holds her and guides her around. Curiously, she kept her feet above the water at all times. A fact one fan noticed and mentioned in the comments section.
"Baby Brooklyn look like she is more into daddy than the swim lesson. She refuses to let those feet touch the water. If it weren't for daddy she would probably be kicking and screaming, "GET ME OUT OF HERE!"
Despite her hesitation to dip her feet into the water, there was no sign of resistance from Brooklyn. She beamed at her father who appeared to be enjoying the session as much as she was. They were surrounded by other fathers swimming with their babies.
Meanwhile, Kenya spiced up her clip by adding the soundtrack of "Baby Shark" in the background before writing the caption, "#babyshark #daddyshark@thebrooklyndaly 1st swimming classes #miraclebaby #babydaly".
While this is the first attempt of Brooklyn at swim school, this is not the first time she's exposed to the water. A few months back, her mother took her to the beach for a dose of sun, sea and sand to celebrate her 48thbirthday. She shared a photo of the two of them lounging by the ocean and captioned it with the hashtag "#beachbabies."
In a separate post, Kenya showed off her post-pregnancy curves wearing a white two-piece swimsuit as she carried Brooklyn. 48 never looked so good on a woman who just gave birth a couple of months back. Meanwhile, her little girl looked so cute snuggling up to her wearing a sun hat.
It's unclear if Brooklyn actually dipped her feet into the water during the trip. Our guess is she probably didn't.
Please fill in your e-mail so we can share with you our top stories!