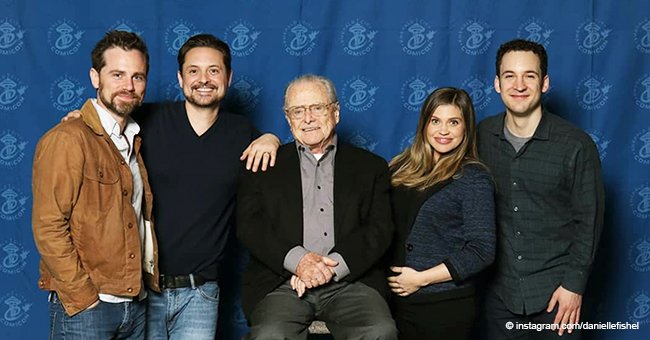 'Boy Meets World' Cast Reunites with Their Old Teacher Mr. Feeny on Show's 25th Anniversary

Its reunion time for the cast of the funny sitcom: "Boys Meets World." Since it has been a long time since the group graduated from John Adams High school, it is only befitting they come together.
On Thursday at the Emerald City Comic Con in Seattle, the cast members reunited, although it is not the first time the cast would be coming together since the season finale in 2000; what makes this so special is the appearance of 91-year-old Mr. Feeny(William Daniels), their special history teacher, who later became principal.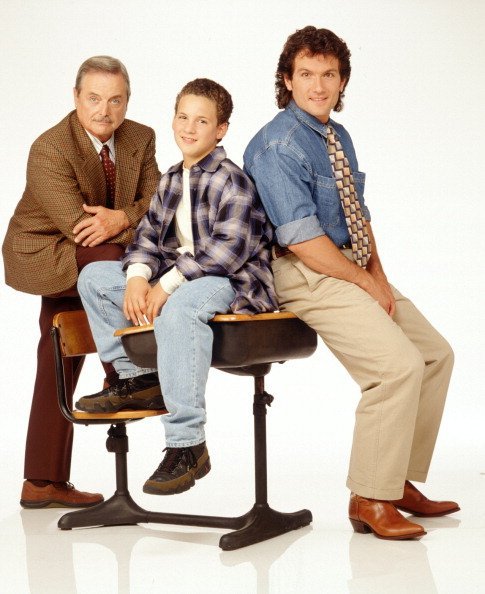 Ben Savage,Cory Matthews and William Daniels in BOY MEETS WORLD. | Photo: Getty Images
Topanga (Danielle Fishel) shared a picture of the sitcom cast on her Instagram handle and captioned it "Dream. Try. Do Cons #emeraldcitycomiccon," the pregnant Danielle was imitating the advice Mr. Feeny always gave; "Dream. Try. Do good."
The whole cast: Mr. Feeny(William Daniels), Topanga (Danielle Fishel), Shawn (Rider Strong), Cory (Ben Savage), Eric (Will Friedle) can be seen in the picture, they all stand while Feeny sits. Eric (Will Friedle) also put up the same picture but opted for a sweeter caption: "#family."
But it was not the same case when the hilarious sitcom celebrated its 25th-anniversary last year, and a handful of the cast was present at the New York City Comic Con to view the highlights of the shows with fans. This year, 91-year old William Daniel admitted that Friedle convinced him to come along in a video he posted online.
The cast members spent long days on set, and it resulted into a tightly knitted bond; in a picture posted by Cory(Ben Savage), he is seen standing beside Mr. Feeny, and captioned it "Always my teacher and friend." Daniel Williams delivery of the role of Mr. Feeny has left an imprint on the viewers and also his co-actors.
According to Ben Savage, he recalls that the final scene for the production was emotional:
"when Mr. Feeny said 'class dismissed,' which still gets me and then we wrapped, this huge wave of emotion went over me,"
he said
"wait, wait no! One more take!"
There couldn't have been one more take, unknown to a lot of viewers, the last scene on the season finale, was shot just once and it showed the raw emotions of the actors.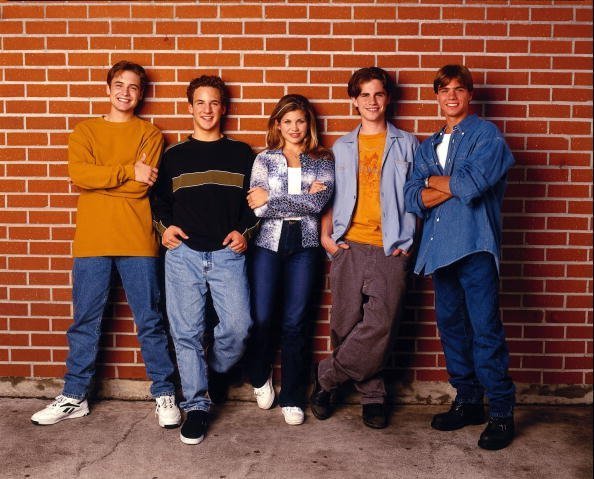 Will Friedle, Ben Savage, Danielle Fishel, Rider Strong and Matthew Lawrence in BOY MEETS WORLD sitcom. | Photo: Getty Images
But fans get to still follow up in the spinoff to the series "Girls Meets World." The 1993 sitcom made its debut to television in September and was aired on ABC. The funny sitcom has some intricate details easily overlooked...bet you didn't know Mr. Turner and members of the Topanga family disappeared.
Some grade classes got skipped in the show but Strong wasn't having any of that, he wanted to leave the sitcom to avoid skipping college, but Jacobs convinced him to stay and juggle both.
A large percentage of the cast members returned for the spinoff "Girl Meets World."
Please fill in your e-mail so we can share with you our top stories!