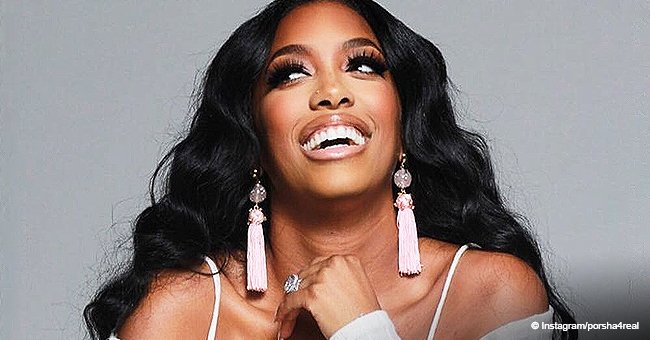 Porsha Williams Shows off Bump and Reveals How Far She Is from Her Due Date in a New Video

Porsha Williams is reveling in the last days of her pregnancy before the arrival of "PJ."
"Real Housewives of Atlanta" star Porsha Wiliams has been flaunting her baby bump and enjoying every second of her pregnancy.
Fans were delighted when Williams posted a video clip on Instagram that revealed exactly when her baby is due.
"Ten days out. [PJ] will be here…ready to party."
WAITING IMPATIENTLY FOR "PJ"
In the video clip, Williams can be seen in a close-fitting red knit dress prancing around in her kitchen, showing off her baby bump to her mother, Diane T. Williams.
She then reveals that there are only 10 days left for her due date, and that the long wait to meet her daughter is almost over.
Williams has been seen rocking sensual, clinging clothes that show off her baby bump in all its glory
PORSHA WILLIAMS' FIRST CHILD
Williams shares the baby she calls "PJ" (Porsha Junior?) with her fiancé, entrepreneur Dennis McKinley. This will be Williams first child. She went through a traumatic miscarriage 6 years ago, during her marriage to football player Kordell Stewart.
FANS ARE OVERJOYED AT PORSHA'S HAPPINESS
Fans of the reality star have been sharing their good wishes on social media:
"I'M EXCITED. the journey i watched you go through from way back when to now awww my heart melt you deserve all the love and happiness. I'm going to be a insta aunty i can't wait for PJ's arrival. May God continue to shower you @porsha4real with many more blessings .I love you lady"
Williams has been especially admired for her glowing health, and her obvious enjoyment of her changing body:
"Porsha i've never seen anyone carry a pregnancy as well as you and look so stunning while doing so, this should go in the book of genius world records."
STUNNING IN A BIKINI AT 8 MONTHS
Williams, 37, has embraced her pregnancy wholeheartedly, choosing sensual close-fitting clothes that emphasize her baby bump and even donning tiny bikinis for her pool-side leisure moments.
We wish Porsha Williams a joyous delivery and that her future as a new mother will be rewarding and filled with the happiness she so richly deserves.
PORSHA WILLIAMS' MATERNITY STYLE
Porsha Williams is loving motherhood and it shows. While most moms-to-be cover up with loose-fitting dresses and smocks, Williams has been seen rocking sensual, clinging clothes that show off her baby bump in all its glory:
"I'm one of those moms who likes to show bump."
Her recent appearance at the "Real Housewives of Atlanta" reunion exemplified her ideal of pregnant glamour to a "T."
The reality star accepted the marriage proposal of boyfriend/baby daddy, Dennis McKinley in February 2019, but no wedding date has been announced yet.
Please fill in your e-mail so we can share with you our top stories!