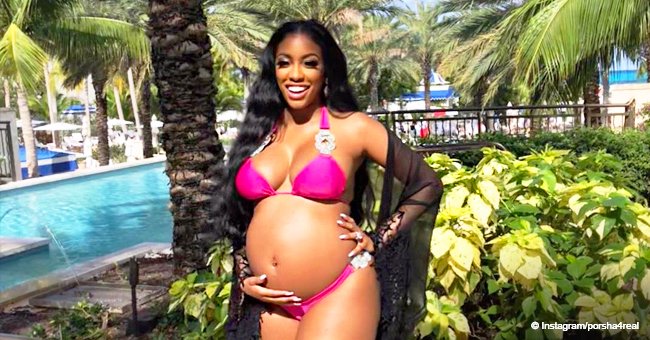 Porsha Williams flaunts her huge baby bump in skimpy pink swimsuit while on Bahamas
 babymoon
Porsha Williams is almost going to be a mom, and so she's been celebrating every moment as a pregnant woman in the best way she can. This time, she traveled all the way to the Bahamas for a "babymoon" this Christmas, flaunting her huge baby bump in a pink swimsuit.
In a couple of weeks, Porsha Williams is set to give birth to her child. The 37-year-old's huge baby bump proves that her due date is getting closer, and so she's been making the most out of her alone time before her baby starts to eat up all of her time.
During the Christmas season, she and her baby daddy Dennis McKinley took off to the Bahamas to enjoy some sun and sea during the holidays.
It turns out that she planned the little getaway as a "babymoon", claiming that little "PJ" was craving for some sun. It seems that their child is going to fit right into their lifestyle, given that even Porsha loves the sun just like her coming little one.
Aside from their little holiday, Porsha has been sharing her simple milestones in her pregnant life, including the time that she caught her baby "dancing" in the womb.
Looking pregnant as ever, she shared a video of her bump with her baby kicking in the tummy. However, instead of kicking, she'd like to see it as "dancing" in the womb.
Ever since getting together with McKinley, Porsha has been sharing more details about their relationship, and even her pregnancy journey. The reality TV star has not been afraid to share details with her fans, and this is something that her fans have appreciated in return, showering her with lots of lovely comments on Instagram.
Now that she is set to welcome a child into her life, she feels nothing but love for her little one and has been gushing about the arrival of her child. It seems that is all we'll hear from Williams in the time being, as the anticipation she feels for the baby's arrival tops anything else at this point.
Please fill in your e-mail so we can share with you our top stories!