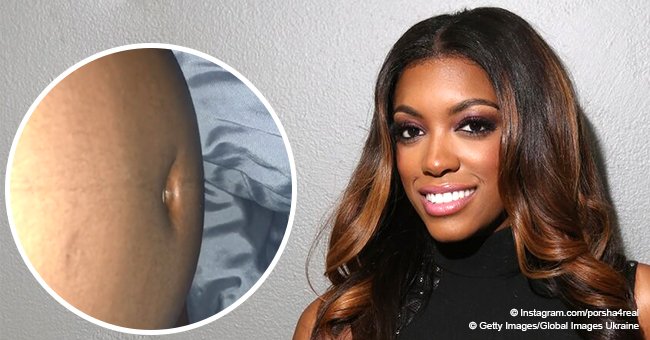 RHOA's Porsha WIlliams shares video of her baby 'dancing' in her belly
Porsha Williams has been over the moon since she found out that she was carrying her first child.
Now that her due date is getting closer, the 37-year-old old shared a video of her baby "dancing" inside her belly.
Porsha Williams is expecting her first child with her baby daddy Dennis McKinley, and she's been sharing her excitement with the rest of the world through Instagram.
Recently, she shared a video of herself looking pregnant as ever while showing off her baby bump. It turns out that the baby inside her womb was kicking, or as she would like to call it, "dancing".
Ever since getting together with McKinley, Porsha has proudly been sharing details of their relationship, and every step of her pregnancy journey.
Now that her due date is getting nearer, she has been flaunting her growing baby bump on Instagram, with fans gushing about the arrival of her child.
It wasn't long ago that Porsha and Dennis were keeping their relationship out of the spotlight, as she kept his name under wraps and hid him in photos.
However, during the early stage of her pregnancy, the two of them started to go out in public, once being spotted leaving a jewelry store together.
People were thinking that they were going to get married sometime soon.
Williams soon after deflected questions of their engagement, saying that they were "looking at everything", and not just engagement rings.
Instead, they have been focusing on strengthening their relationship as a couple and preparing for the arrival of their bundle of joy.
In a couple of weeks, Porsha and Dennis will definitely have another reason to strengthen their relationship, and that is their responsibility to raise their child together.
This clearly won't be a problem for both of them, as they are already ecstatic knowing that their child is coming soon.
Please fill in your e-mail so we can share with you our top stories!