Brave Man Pushes Aside Firefighters and Risks Own Life to Save His Dog from a Fire
A family from Pala, California, lost all their earthly possessions in a terrible fire, but their dog survived thanks to a hero who was willing to risk his own life.
The firemen yelled at Jose Guzman to stop, but he ran into his burning house in Pala, California, this week.  When I ran through the curtain of fire where my van was and fence, I didn't know what was behind that, I decided to come here anyway," said Guzmán.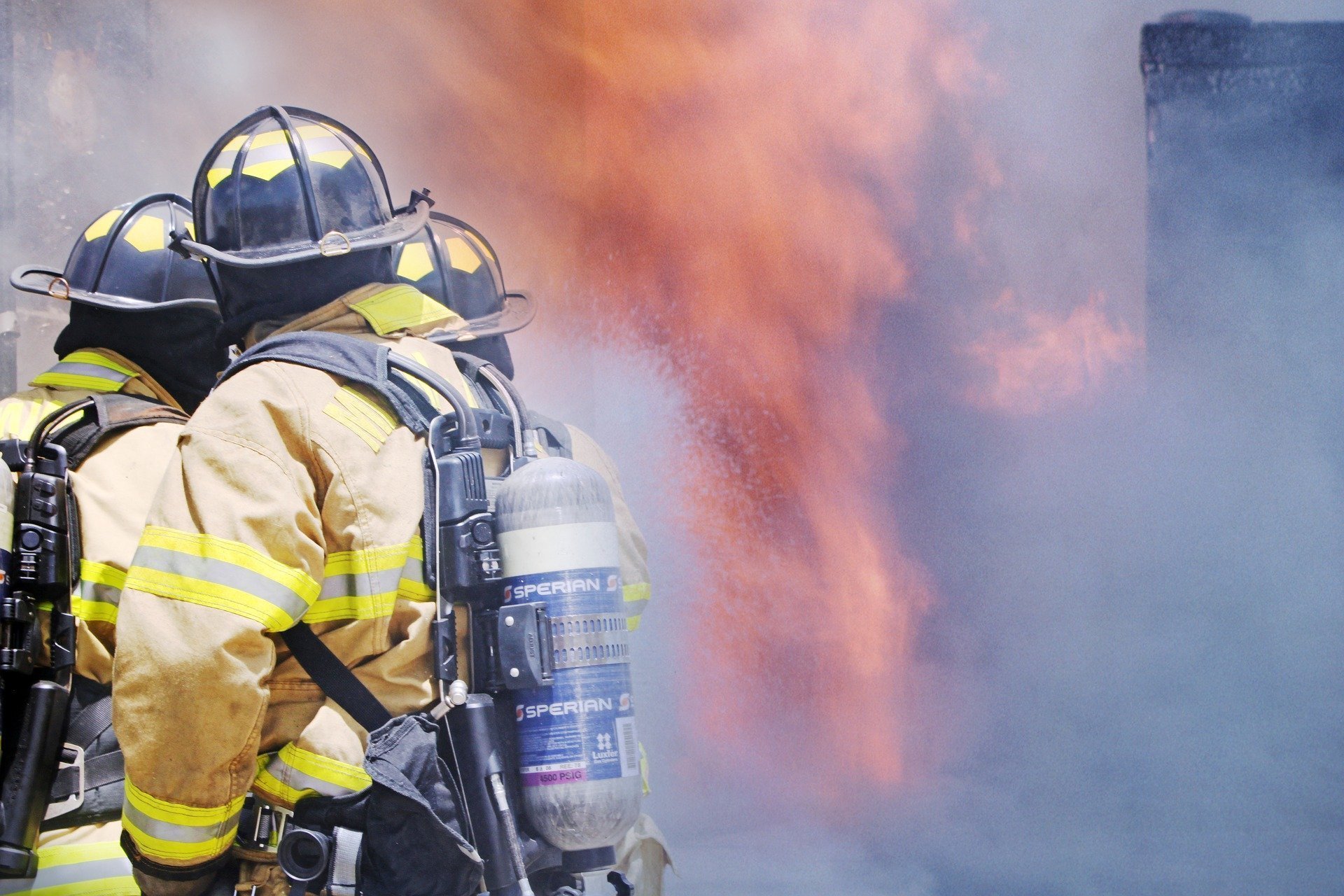 But José did not enter the fire to look for his belongings. He wanted to save his 2-year-old blue nose pit bull, Gabanna. And his heroism was recorded on video.
"I knew my dog was here, I knew she was here," he said. Gabbana was hiding under the toilet, as the bathroom was the only room that the fire hadn't reached yet.
"I knew something could've happened to me or both of us, but it didn't go through my mind at the time," Jose told People.
"That dog is part of my family. She's been with us through downs and ups, and I couldn't leave her there. I would do it again if I had to; I would do it for anybody in my family."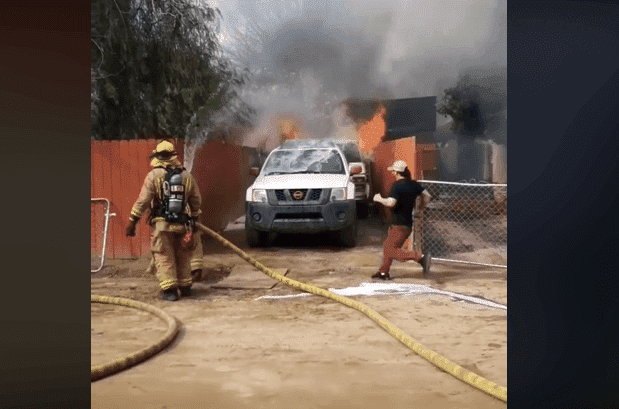 Guzmán, his fiancée Adriana Lopez and their three girls, Yvette, 2, Hazel, 4, and Yetzel, 6, were not home at the time the fire started. They were at his parent's house enjoying a barbeque when someone alerted José of a fire on his neighborhood.
José didn't think his house would be on flames because he had left only one hour before but decided to drive to the neighborhood anyway.
That's when he realized that the fire had started at the house next door, and the flames had quickly extended to his home, as the firefighters struggled to put down the fire.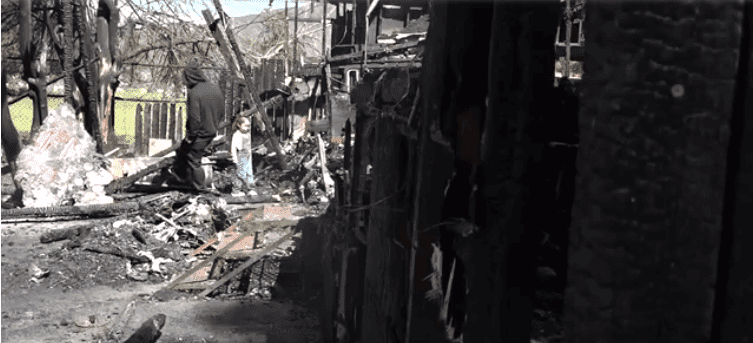 José said he was thankful his family wasn't home, but he knew Gabanna was inside and he wouldn't let her die just like that.
Even though he hesitated because it was too hot, Guzmán ended up running through his home to the back, as the astounded firefighters and neighbors watched in horror and expected the worst to happen.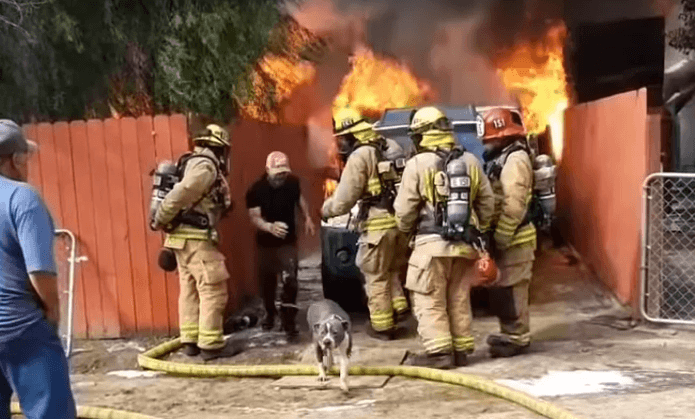 However, Guzmán was able to locate Gabanna, and both made it out in time, although they got injured in the process. José suffered second-degree burns to his face, right side, arm, and left ear, while Gabanna had injuries on her nose and paw. Both are doing fine now.
The video of the brave rescue, which has gone viral on social media, was recorded by José's landlord's son-in-law, Adam Guzman, who is not related to him.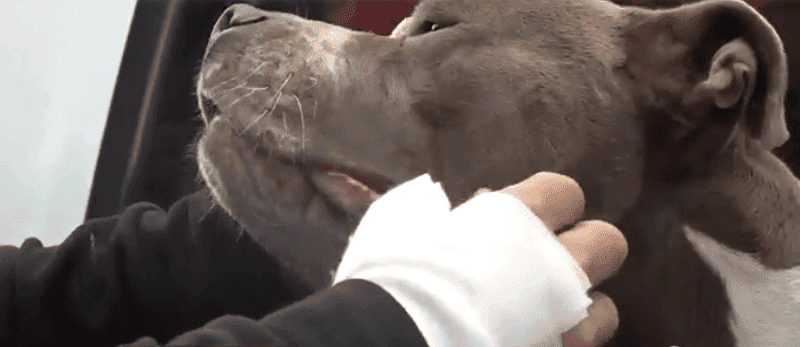 "I thought he's a goner. The flames were hot, and I couldn't imagine running through those flames. That was it, that was the last time I'd see him," Adam told People. "When he came running out with the dog, it was a big relief that he was alive and brought out the dog at the same time."
Dog lovers from all over the world have been praising José for putting his life at risk to save Gabanna, but firefighters don't encourage untrained people running into fires, as they say, Guzmán had a happy ending, but that's not the usual occurrence.
José and his family have been staying with his sister, and they're overwhelmed with all the love and support they received from the community and people all over the world.
There's a GoFundMe page set up by Roxanna Martinez, José's sister, to help the family get back on their feet.
Despite their fame, pit bulls are some of the most caring and faithful breeds. 
Last year, a house in a California complex went up in flames and a pit bull was credited with saving her family's lives. The dog not only warned her owner about the fire but also tried to take a baby girl to safety. 
Latana Chai, a mother of three, was peacefully sleeping one night of June when her dog, Sasha, started to bark and bang on her back door, unusual behavior for the four-legged pet. "I open [the door], and she runs in and starts barking at me like crazy, and I was like, 'Okay, this is weird. This is not like her,'" Chai said.
Hero Pit Bull Saves Family From Fire, Carries Baby To Safety.: There really is nothing quite like the love of a dog. They're gentle, kind, and would do just about anything […] The post Hero Pit Bull Saves Family From Fire, Carries Baby To Safety.… https://t.co/vUcKQcUNKF pic.twitter.com/Dwf7yGtjmD

— Aimi Amos (@AimiAmos) June 13, 2018
That's when Chai noticed that the unit next door, where her cousin lived, was on fire. Luckily, her cousin was not in the department. Chai went into action immediately, screaming "fire!" to wake up the neighbors.
When she went back into her room to take her baby, she was surprised to see Sasha was already there, trying to take 7-months-old Masailah's to safety. "I ran into the room, and I see Sasha," Chai said, "she has my baby like by the diaper, just dragging her off the bed trying to get her to safety."
Even though Chai's apartment was left uninhabitable, she's glad everyone, including her daughter's best furry friend, are ok.