Lady Gaga Is the Epitome of Retro Chic in a $4,370 Leather Top, and All Eyes Are on Its White Bow
Lady Gaga is the rave of the moment and anything she lays her hands on seems to turn to gold. The songstress was at the Daily Front Row Fashion Awards, and her dazzling black leather dress was the cynosure of all eyes.
Lady Gaga has been a hit in this award season; if she is not winning one, she is presenting another. The Academy award winner was live at the Daily Front Fashion Awards, and her dress for the occasion was a delight for all to see.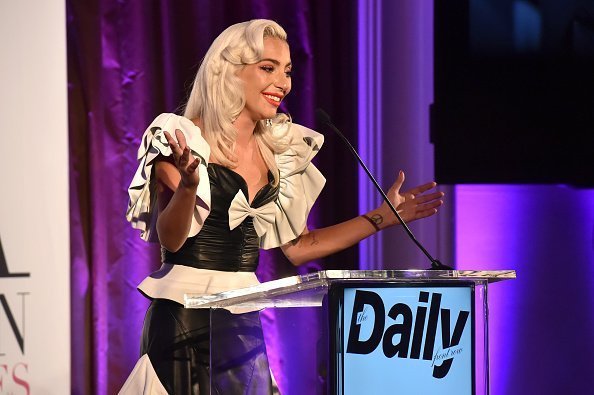 The 'A star is born' actress wore a black leather dress with white ruffles and a bow. The highlight of the dress was the beautiful neckline that showed her cleavage. 
For her shoes, she chose black heels, while spotting a red neon lipstick. She also wore silver heart-shaped earrings, carrying platinum blonde tresses which were classic "Hollywood" in nature, giving her a sweet look. 
The bow on her cleavage drew much attention to her while the ruffles featured on the shoulders, waist, and skirt of the dress gave it a classic prom dress feel with a modern twist. 
The 32-year-old rocked the red carpet with her friend and hairstylist of ten years, Frederic Aspiras. They held hands, danced and took pictures together. The hairstylist wore an all-black double-breasted suit. Gaga later presented him with the award for the best hairstylist of the year. 
The hit singer had previously posted a picture from her dressing room of her and Aspiras preparing for the awards. The image showed her on her blonde Hollywood classic hair taking a selfie in the mirror as she wore her dressing gown. She captioned the image:
 "On my way to present the best hairstylist of the year to form the Daily Front Row to my best friend and hairs' artist for a decade @fredericaspiras."
It seems Lady Gaga has a thing for necklines. The singer was part of the most beautiful Oscar moments when she tried to fix winner of the Best Oscar Actor, Rami Malek's bow tie. The award-winning songstress noticed that the actor's neckline had come off and helped him to adjust it, giving him a sweet, encouraging thumbs-up afterward.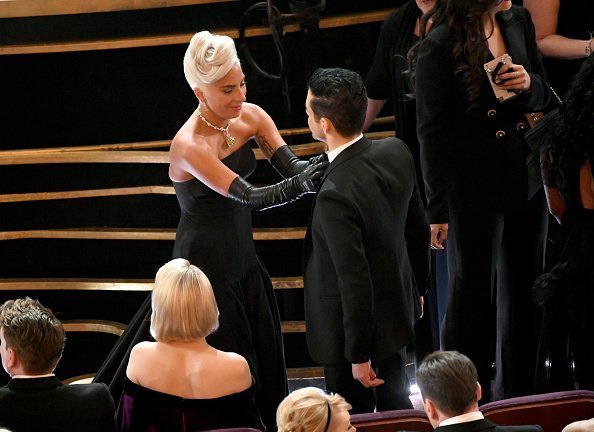 Malek's girlfriend and co-star of the 'Bohemian Rhapsody, Lucy Boynton had also tried to fix the neckline earlier. It seemed the bow was having none of the attempts as it still looked crooked when Malek received his award. 
Many Twitter users applauded Gaga for the gesture, saying it was sweet.