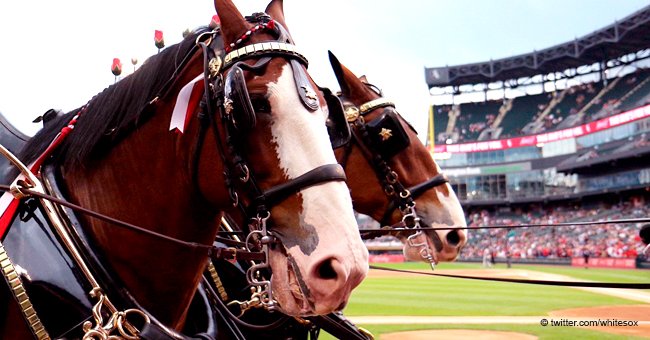 First Budweiser Clydesdale Foal of the Year Is Born
Attention all horse aficionados! You have not seen anything on four legs as ridiculously cute as this little Clydesdale foal!
If you've been looking for a good reason to raise your beer in celebration, put it up for Carly, the first Budweiser Clydesdale foal of 2019.
Carly was kindly introduced to the world by the Warm Springs Ranch, the Missouri farm that Budweiser breeds and trains their distinctive Clydesdale horses.
Farmers living along the banks of the River Clyde in Lanarkshire, Scotland imported a few Great Flemish Horses and mated them with local mares in the 19th century, giving birth to the Clydesdale.
Carly and her mom live on the Boonville ranch, a sprawling haven of sweet grass pastures, red barns, and a herd of other Clydesdales.
The official home of the Budweiser Clydesdales, built in 1885, is an ornate brick and stained-glass stable on the historic 100-acre Anheuser-Busch Brewery complex in St. Louis.
Mark Boese, the herd manager of the Clydesdale's ranch, shared a picture of the newly born foal on Instagram recently:
"Say hello to Carly. She is the first foal born this year at the #budweiserclydesdales breeding and training facility."
Carly, being a female, will not make the beer-hauling Clydesdales group that tours the United States. That group constitutes geldings-only, fixed males weighing between 1,800 and 2,300 pounds.
The ranch is also strict on the horses' coloring and size with only the best meeting the requirements for the famed Budweisers that appear in the Super Bowl commercials every year.
A Clydesdale must be a gelding standing at least 18 hands high (6 feet tall), be at least 4 years old, have a bay coat, four white stockings, a white blaze on the face, a black mane, and a black tail.
Warm Springs Ranch expects two-dozen more foals to be born this year, with Carly being the head of the herd now. Carly and the crew will reportedly be ready for visitors on March 23 when the farm hosts tours six days a week.
Please fill in your e-mail so we can share with you our top stories!