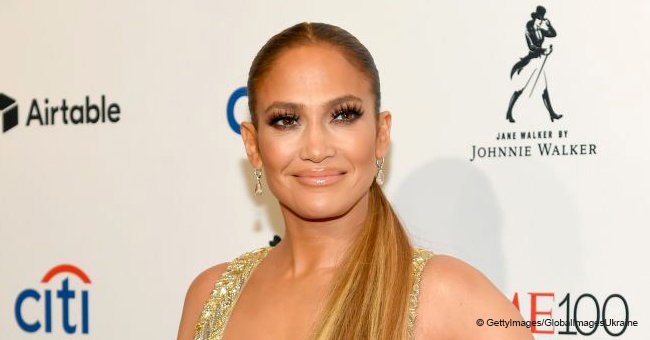 Jennifer Lopez Shares Adorable Home Video of Her 'Coconut' Daughter Singing Her Hit Song

One of the joys of motherhood is watching your child grow up to be like you. This is true for Jennifer Lopez, who is proud of her "coconut".
Jennifer Lopez shared a throwback video on Instagram of her daughter, Emme, singing her hit song "Feel The Lights," on Saturday. The little girl performed the 2015 track wearing pajamas and holding a wired microphone. Max, her twin, was not left out as he kept jumping around while making goofy signs's with his hands.
Lopez referred to the twins as her "Coconuts," while writing that she found the video while going through her phone. The singer also wrote that in a flash, they had performed at their school play, and could not contain her excitement.
It is obvious that the 11-year-olds are following in their parent's footstep. Their father, Marc Anthony, is an award-winning music artist, and their mother apart from singing, is an actress and a choreographer. There is a lot of talent in their gene pool to draw from, and the twins do not disappoint.
At the school play, the female twin gave a solo performance of "How Can A Critic" from "The Grunch," while her brother performed with the rest of the cast, singing the chorus "Only The Theater For Me."
The play titled "The Grunch" is a story about Rudy Grunch, a sixth-grade student who felt like he didn't belong. Like "The Grinch," Rudy sets out to ruin the school play because he could not share in the excitement.
Emme equally appeared last year with the "Maid In Manhattan' star, in the video of her song "Limitless." However, the Lopez twins are not the only ones with musical talent.
The soon to be Mrs. Rodriguez future step-daughters, Natasha, 14, and Ella, 10, have shown a likeness for show business. The Rodriguez children were recently at a recital with their soon-to-be sister, and the 49-year-old shared videos on Instagram of the trio singing together.
In a 2017 interview with "Entertainment Tonight," A-rod revealed that his children adored the "I'm Into You" singer, referring to her as a good role model. The father of two added,
"They want to do exactly what Jennifer does."
Lopez and the former baseball player got engaged early this month, after two years together, and their children play a huge role in their relationship.
In an interview, the "Enough" star emphasized how important it was for their children to agree with their relationship, as they "Love each other's kids." The engaged couple has stayed true to these words, sharing tons of pictures taken during family time on Instagram.
Please fill in your e-mail so we can share with you our top stories!